Trends come and go, but here at Thames Valley Windows, we have seen an increase in the demand for Slimline Aluminium windows creating large floor to ceiling windows, offering rooms filled with natural light and panoramic views for both residential and commercial Berkshire properties and we expect it to continue in 2021.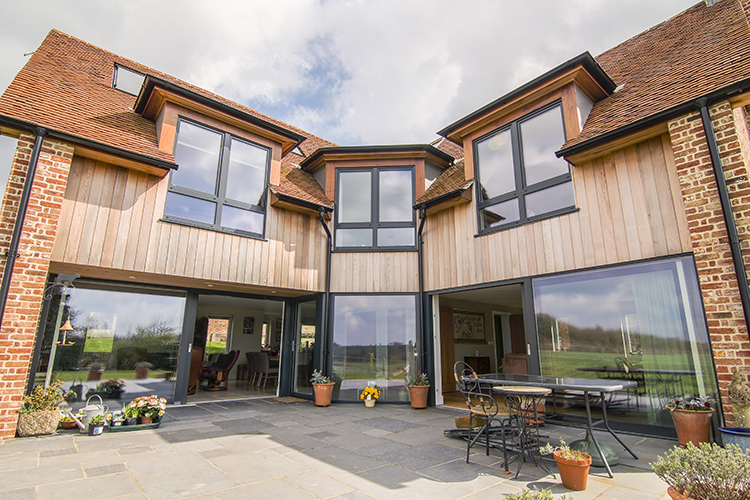 Slimline Aluminium windows offer a sleek and stylish aesthetics with an impressive high thermal and acoustic performance.
Designed with minimal sightlines, they are an ideal replacement for existing steel windows whilst providing superior security features.
Whether you are choosing contemporary or traditional aluminium windows for a home renovation or a new build we have listed a few reasons why you should choose them.
Sustainable and Environmentally Friendly
As an Increasing number of Berkshire homeowners seek a more energy-efficient home, the preferred material choice for replacement windows is aluminium.
Technological advancements in the modern polyamide thermal break in aluminium windows and high insulating foam prevent heat escaping, which means fewer draughts and cold spots.
Aluminium profiles with high- performance low E double and triple glazing with argon gas between the panes offer excellent thermal efficiency. Combined with low U-values from 1.4w/m2k which fully meet Building Regulation requirements and are guaranteed to keep your Berkshire home warm.
Aluminium is 100% recyclable and is one of the most sustainable and environmentally friendly construction materials to preserve the environment and reduce carbon footprint in a property.
All of these eco-features not only saves energy but also saves you money in your energy bills.

Durable, strong and easy to maintain
Slimline Aluminium windows are unrivalled when it comes to durability the strength-to-weight ratio means aluminium frames can support large glass panels. With the minimalist trend for more glass and less frame, aluminium windows and doors are a popular choice for Berkshire homeowners and architects.
Despite aluminium being ultra-lightweight, it is also a highly flexible, making it the perfect material if your windows are an unusual shape, style or configuration.
The strength of aluminium means that windows can be made with slimmer frames than timber or Upvc windows, allowing larger glazing areas and therefore allowing more natural light and greater solar gains into the property a feature loved by homeowners.
Aluminium frame windows and doors are virtually maintenance-free; they are highly resistant to rust and corrosion. Unlike timber frames, they will never rot, blister or flake or require painting or staining. If you just clean your aluminium windows with a damp cloth every so often it will be more then enough in the way of preservation.

State of the Art Performance With Architectural Appeal
With clean, modern lines, and advanced technology aluminium windows are perfectly suited to add sophistication to a stylish new-build architecture as well as restoring timeless character to listed buildings or properties in a conservation area.
The high-quality powder-coated aluminium windows and doors supplied by Thames Valley Windows have been precision engineered and offer the latest glazing technology and an excellent multipoint locking system, to provide outstanding security, energy efficiency and all-round performance.
Available from large fixed pane 'picture windows' to slim frame casement or tilt and turn windows, with a flush sash option with no frames visible on the external facade for an elegant and understated beautiful addition for your home.
With a wide range of customisation options, and an array of RAL colours. The choice of dual colour options on the inside and outside perfectly matches your windows with your interior décor and façade.
All of our aluminium window frames are weather resistant and finished with a 70-80 micron powder coat finish to protect from all elements. For coastal properties or swimming pools, there is the option of marine grade which has a minimum thickness of 60 microns to protect against, moisture, chlorine or natural chemicals such as salt.
We offer two contemporary aluminium window and door solutions: from Internorm, and Solarlux that also feature award-winning bi-fold doors and minimal framed sliding doors. We also have a traditional Heritage window and door solution from Everglade. All systems have different benefits, depending on what your requirements are.
Our range of double glazed Aluminium windows and doors carries a ten-year guarantee. Offering you peace of mind and confidence in your decision to install aluminium windows to your home.
Here at Thames Valley Windows, we can help design and install bespoke Slimline Aluminium windows to Berkshire properties and surrounding areas. Our designers offer a 3D Visualisation Service, so you will be able to view a visual representation of your aluminium windows before they are installed!