Which Conservatory Style is Best for My Home?
Has the warmer weather started you thinking of expanding the living space in your home by adding a conservatory or garden room to your house?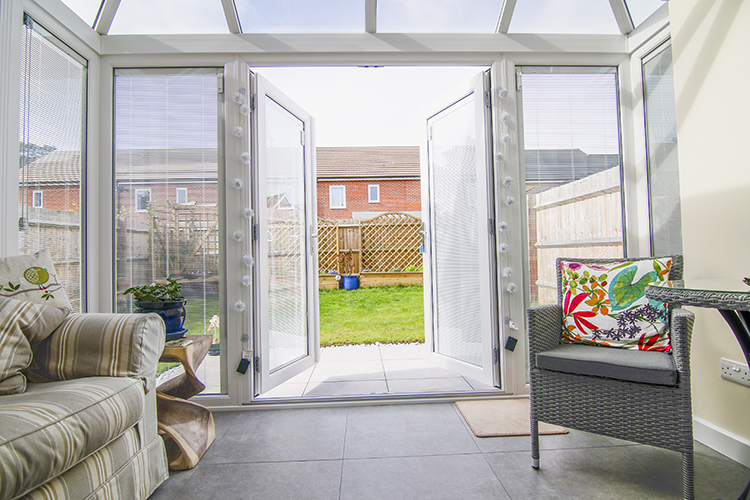 Adding a bespoke conservatory to the rear of your property has its benefits. It fulfils a wide variety of uses from kitchen conservatory to glass extension, whether it is adding that much needed extra space filled with natural light or increasing the value of your home.
While there are many types of conservatory styles that you can choose from, the final style you select will be a personal taste on the size and the kind of property you have. There are also many options to consider from window and door material to colour to create a bespoke conservatory unique to your home.
So, if you are searching for some Conservatory ideas, our buyer's guide will give you some inspiration. We have chosen the seven most popular, glasshouses, garden rooms and conservatory designs in Berkshire, Surrey, Oxfordshire and beyond to help you decide which is the best style for your home.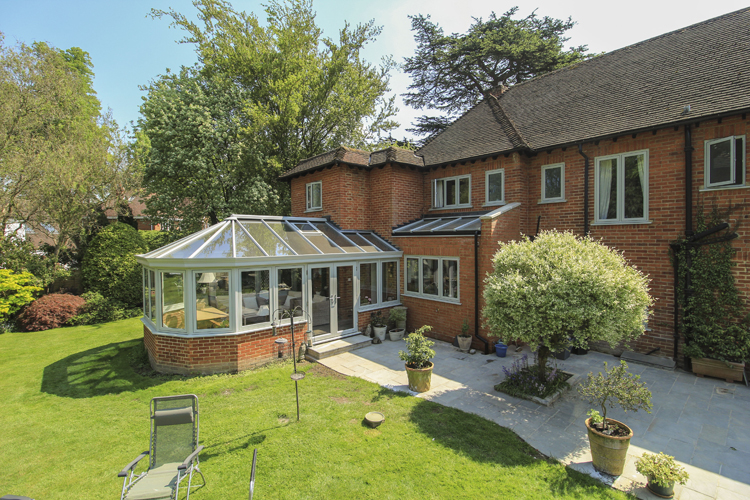 Victorian Conservatory
Inspired from late Victorian architecture, the Victorian Conservatory is by far the most popular style of Conservatory in the UK for its distinctive period design features and ornate high-pitched angled roof.
With a curved bayfront, it can be designed in many variations with the most popular being the three – facet consisting of three main windows or five – facet comprised of five large windows with a more rounded bay design
The Victorian Conservatory is a beautiful, multi-faceted structure with decorative roof crestings and elegant finials. To capture the warmth and richness of its architectural past, it may also feature intricate design elements like large decorative pillars, gothic arched glazing bars, leaded glass, or other architectural embellishments.
Traditionally, Victorian conservatories consisted mainly of ceiling to floor glass frames, including the roof, a more modern design feature is Dwarf-walls (low-level brick walls) to add a more 'solid' visual element.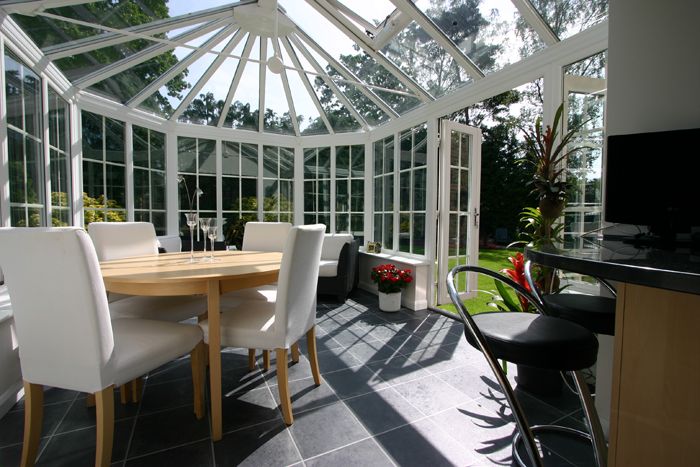 These Victorian Conservatories are very stylish been designed to complement any style of properties; however, they are more suited to a larger property from a modern home to new build or period properties.
Whether you are looking for an extra dining room or family area, this conservatory style will ensure natural light is able to enter your living space and offer a panoramic view of your garden and beyond all year round.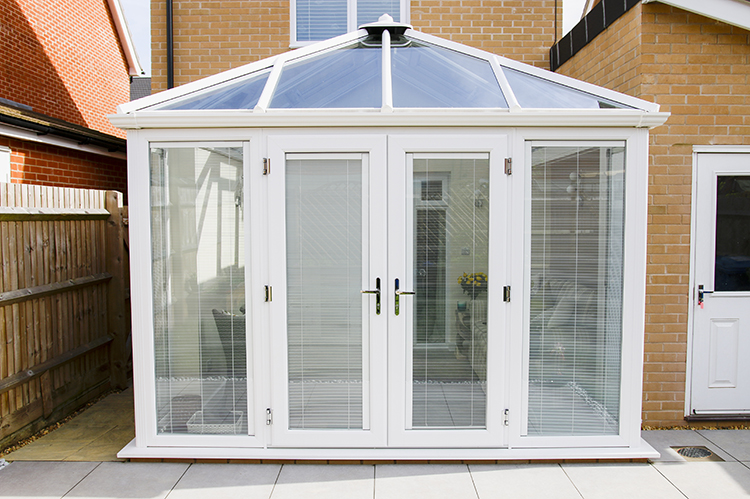 Edwardian Conservatory
The Edwardian Conservatory first made its appearance during the reign of King Edward VII as with the architecture style during that time it is beautifully understated.
Less ornate than Victorian architecture the Edwardian Conservatory is symmetrical in build with modern, clean lines from a sloping roof, a flat front, and either square or rectangular that will blend seamlessly with existing brickwork of modern properties. Popular conservatory style for bungalows and cottages as there are no height restrictions.
The key features of an Edwardian conservatory are the sloping pitched roof that is usually made up of three-sided sections, a four-sided section tends to look more like a roof lantern, but both styles allow maximum sunlight to flood into the living space. Every side of the roof slopes back to the centre and the resulting in a contemporary style. The other feature is the row of small windows at the top of the framing for that timeless style created in the Edwardian era.
If you want a homely feel, then you can opt for a fully tiled or slated design solid roof for your Edwardian Conservatory.
Make an impression through minimalism with an Edwardian conservatory that is a prestigious design with either French doors or bifold doors which maximises space and provides a large, living area to entertain, dine, work, or to relax and enjoy the views.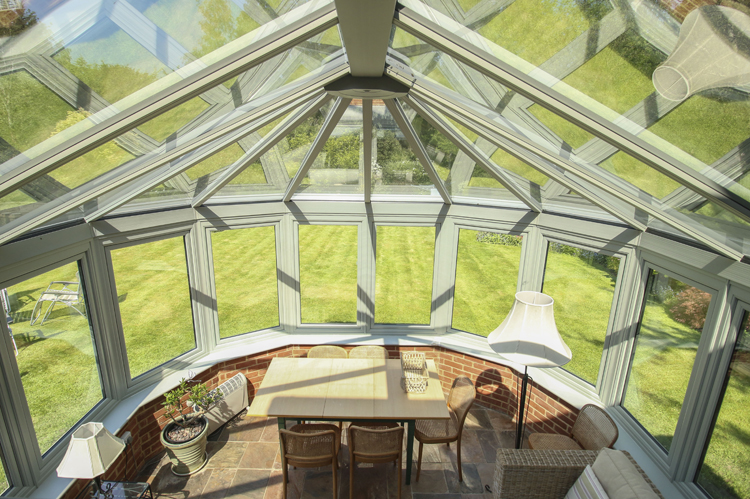 Lean-to Conservatory
Where space is limited, or for properties with little space under the eaves like a bungalow, then the Lean-to Conservatory is a practical and stylish way to extend a property.
Also known as the Mediterranean conservatory or sunroom, these conservatories are extremely popular for both contemporary and traditional homes, including terraced townhouses.
The key feature of the lean-to conservatory is the three sides of glazing, and low-pitched sloping roof to increase your everyday living space and create a spectacular, relaxing sun-filled retreat.
With their simple and streamlined design for a contemporary look, a lean-to conservatory is designed to be built along a property's rear exterior wall. Another popular choice with homeowners because of their versatile design to match the style and dimensions of any home.
The large glass panels, of a lean-to conservatory, allows vitalising natural light to enter all-year-round to provide you with a living space to enjoy in all-weather climates.

Gable End Conservatory
The Gable-end conservatory design provides unique aesthetics combining attractive period features from the Georgian era and modern glass technology performance.
With its beautiful, stately appeal a gable conservatory design is an excellent choice for period houses of any size to add a touch of grandeur.
If you are seeking elegance, style and light with a design that is sure to impress then a gable front conservatory is the perfect style for you. There is something special about these flat fronted conservatories, the height of the gabled roof gives your living space a more spacious feel and an abundance of natural light and warmth all year round.
Also known as the Pavilion conservatory or sunroom, these conservatories are extremely popular for both modern and traditional homes, including semi-detached and period properties.
Inspired by Georgian architecture the key feature is the roof that stands upright(vertical) and doesn't slope backwards like other conservatories, this means that the front of the Conservatory stays upright, like the end of a house.
Similar in floor space to the Edwardian Conservatory, a gable-end conservatory has a large rectangular or square shape, to give a distinctive style and for maximum space that provides a grand and stunning impact both inside and outside. It differs through the simplicity of its design and lack of opulent décor.
Many homeowners would call a gabled conservatory the ultimate, classical Conservatory which benefits from the enormous amount of natural light. The gable ends. allows the windows to extend right up the roof apex for a sunburst effect.
With a gable-end conservatory, you can choose between a glass or a solid warm roof, and you can even add period finishing touches.
Another design option that is a preferred choice with homeowners is the addition of extra brickwork, that can perfectly complement the style of your home.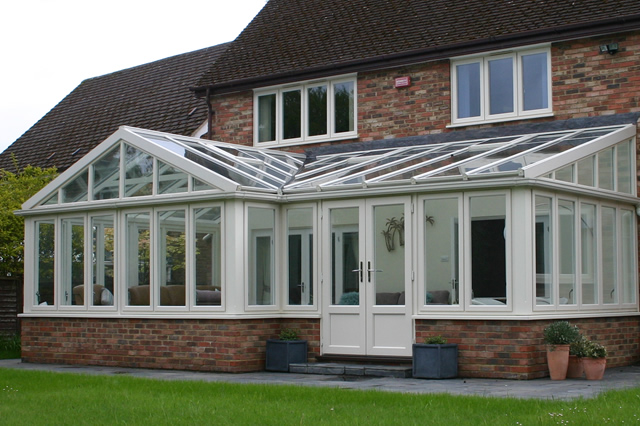 P Shaped & T Shaped Modern Conservatory
The P-Shaped Conservatory offers the benefit that can extend in different direction creating two separate living spaces, popular with homeowners with young families looking for open plan lounge/dining area with a play area for the children.
Due to the size, the P-Shape conservatory is more suited to larger detached properties. The P-Shape conservatory benefits from the natural light of a lean-to conservatory and the beautiful period features of Victorian Conservatory, blending the perfect combination and creating the unique shape of a P and can be either three-faceted or five-faceted.
The leg of the P-shape can either be finished vertically or with a slope called a hip to the roof.P Shape conservatory has superb floor space and light, making them superbly functional and incredibly stylish addition to any home.
The T-shaped conservatory is a combination of conservatory styles with the intricate ornamentation Victorian, slim sightlines of Edwardian and the impressive height and space Gable conservatory, makes an innovative shape and aesthetic that blend seamlessly with both modern and traditional properties.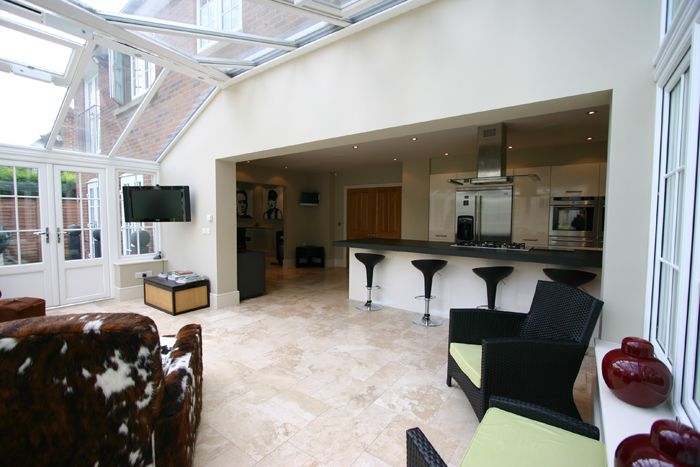 The most asked Conservatory question from homeowners, is, do we need planning permission?
For more information, read through the following informative blog post: What Planning Permission do I need for a Conservatory
The complete Thames Valley Windows Design Team love 'Conservatory Lifestyle' and feel very passionate about helping you design and create the perfect Conservatory for your home and lifestyle.
We may not be able to help you choose rattan furniture or a new dining table for your Conservatory, but with our creative design ideas, we will be able to create a Conservatory full of light and style so you can, spend time with your family, to entertain your friends or grabbing some 'me time' to relax.
Have you seen a conservatory on Instagram or Pinterest and wish you could have one just like that? Then talk to us!
We have been designing and building bespoke Conservatories for over 35 years, and with our creative design and innovative array of glazing options will be able to bring your conservatory ideas into reality. Our skills extend to interior design and lighting; we have an extensive network of connections in the trade and can assist you with contacts for many other projects should you require it.
To discover our Conservatory prices now, call 0800 181 698 and request for a free no-obligation quote! Or contact us online and arrange for an appointment at our showroom or your home!