In the last decade, the glass roof industry has seen an enormous demand for a minimal framing roof lanterns and roof lights within residential properties. More homeowners are quickly acknowledging the numerous benefits; a glass roof can bring to an extension, orangery, new build or inserted into an existing flat roof to open up a room to the sky!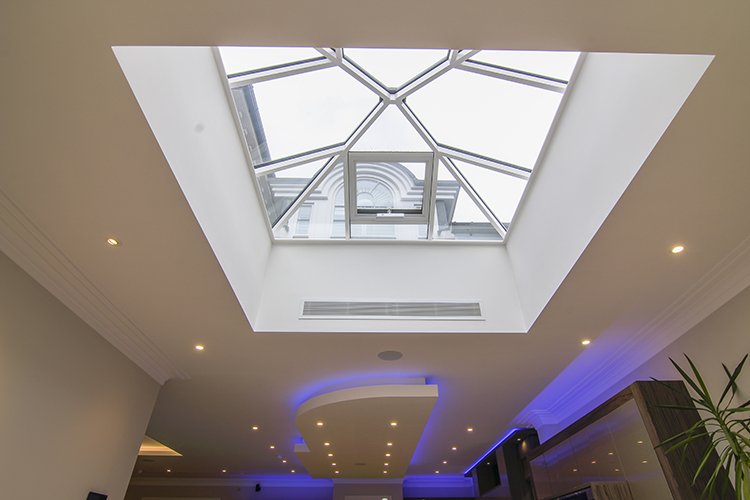 Structural glazing that forms part of a building's structure has become increasingly popular in recent years in both modern and traditional homes with everything from a glazed roof, sliding glass doors, large glass windows to frameless glass extensions.
Roof lanterns and roof lights are a fantastic addition to a home and provide an aesthetically-pleasing and effective natural lighting solution. While they are made of glass with uPVC or aluminium frames and are situated on the roof or ceiling to allow natural light to flood into a living space, they are structurally different.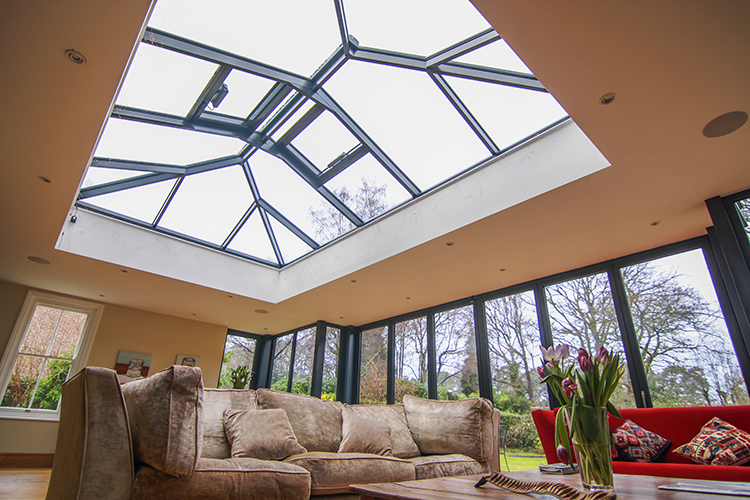 A Roof lantern is designed for flat roofs, so they're particularly popular with single-storey kitchen extensions or conservatories, offering a thermally efficient wow factor to a room. A roof lantern is an elaborate structure that protrudes up from a flat roof, creating a stunning architectural feature that will add the feeling of height and space while channelling natural light from all angles no matter the position of the sun or moon, due to the roof lantern has multiple panels, so will always have a side facing the sunlight.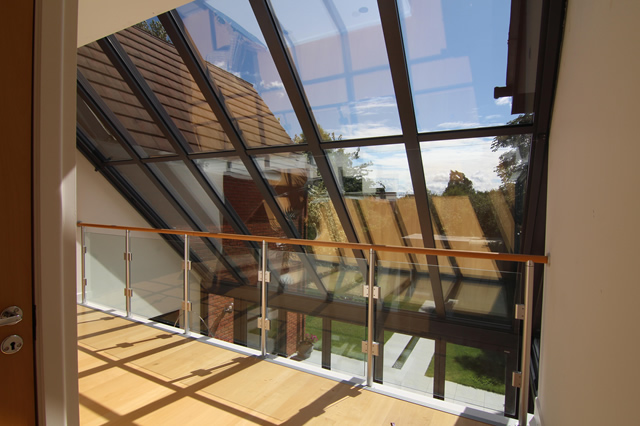 Full glass roofs make a visual statement it is the latest in modern roof glazing. These horizontal multi-panel aluminium roof lights have a frameless appearance with minimal sightlines so that you get more glass and light to create an illusion of space. These flat rooflights suit contemporary extensions and can complement other glass features within them, creating an optimum design statement.
Single roof lights are designed for lean-to roofs and gable ceilings so popular for loft rooms. A roof light is a glass panel or windows which is installed into the structure of the roof and sits flat.
However, not all glass roof designs are the same. The best glass roof for your property will differ depending on the shape and size of your building.
Here are a few glazing technology tips and advice that you should always keep in mind when looking for what glass roofs offer for your home.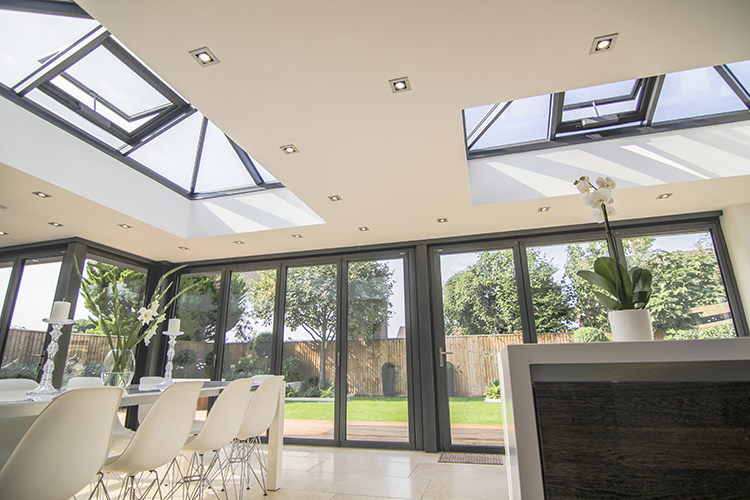 Choosing the Right Type of Glass Roofing
It's essential to know which type of glazing system is likely to work best for you.
A roof lantern provides an aesthetically-pleasing and effective daylighting solution rather than using electricity for interior lighting. This product range is custom made for the perfect fit for the extension or room, and what's more, they offer great views of the sky at night.
Multiple panels in roof lights system are an innovative way to introduce contemporary architectural glazing to your roof for a truly minimalist and opulent appearance. Bespoke product from glass canopies, atriums and Wintergardens; designed and installed to your specification.
Single panels in a flat roof light, for example, are great choices if you want to create a cost-effective aesthetic on a lean-to roof. These roof-lights are not usually custom made they are square or rectangle and are readily available in a variety of sizes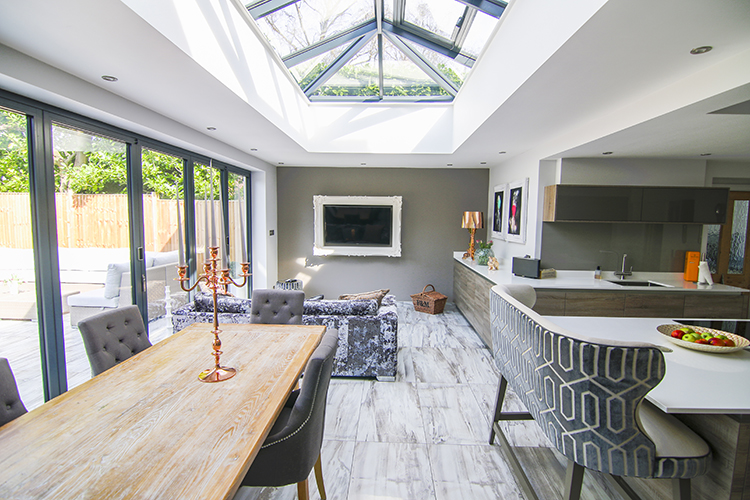 Choosing the Best Type of Roof Glazing
Innovative glass technology ensures your glass roof and space is safe, secure and maintained at a comfortable temperature, whatever the weather. There are many types of glass finishing, and glazing options here are a few examples:
Solar control glass has a special solar control coating applied similar way to Low-E glass to allow natural light to pass through a glass roof and reduce the amount of solar radiation passing through to minimise solar gain and overheating.
Thermal glazing (also known as low-emissivity or low-E glass) maximises light and controls solar gain. This type of glass is excellent for making sure that heat transfer is preserved either side of the glass. This also means that you will save energy, as well as any money you would otherwise spend on heating bills.
Toughened glass is another great option if you're considering architectural glazing. Toughened glass in any form is likely to be the default choice you'll make. This type of glazing ensures your safety and security. It also makes sure that a building can remain legally and structurally sound.
You may also wish to consider laminate glazing. Laminate glass is extra safe in the sense that, should a glass unit ever snap or break, the glass won't shatter. This means there is less chance of injuries arising through the broken or shattered glass on the floor. When falling from above, this can be a considerable hazard.
Defensive glass can also be put to great use in a roofing system. For example, some companies invest in bomb and blast-proof glazing. If security is something which is high up on your list of priorities, you may wish to consider these options.
Self-cleaning glass is designed with a coating which works by reacting with the UV light from the sun and with rainwater to degrade and clear away dirt and debris.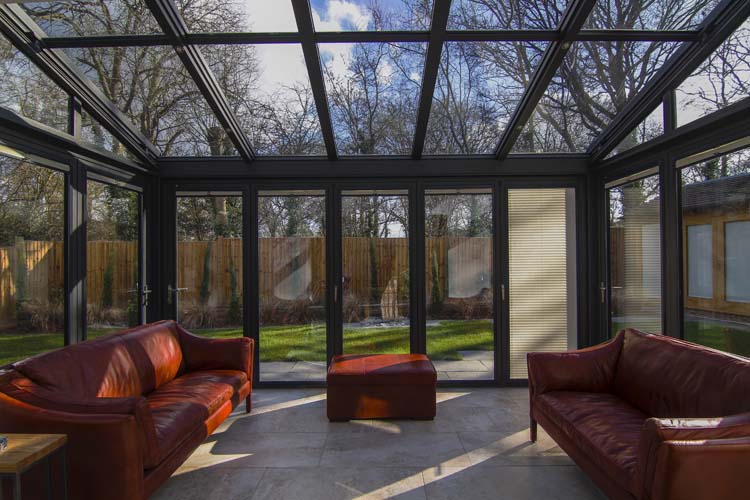 Opening or Closed Glass Roof?
Something that may not occur to everyone right away is whether or not their glass roofing should open up by manual or electrical operation. There are many reasons for and against opening roof glass. However, these will likely fall depending on what you need and your comfort levels.
A glass roof which opens for ventilation will allow you to bring more air into your home. You can, as with roof light windows, let fresh air drift in from above and to circulate around your rooms.
However, if you want to keep things as secure as possible, and merely want to install glass windows for the light and the aesthetics, then a closed or fixed glass roof will be ideal for you.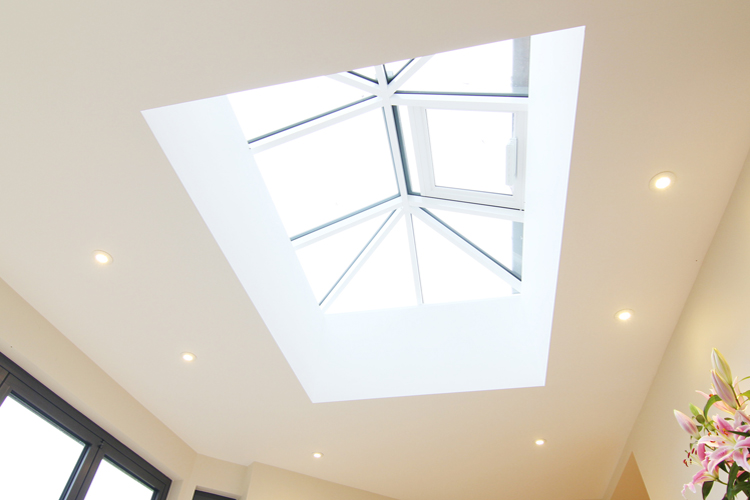 Why Choose A Glass Roof?
There are many fantastic reasons for investing in a glass roof.
A glass roof is a superb way of bringing maximum light into your property. It is a sought-after contemporary feature in modern and contemporary properties.
Glass is a desirable feature in modern interior design. Therefore, you will be able to add significant value to your property.
Glass roofing can transform the look of your home and makes a great addition to a kitchen or dining room.
Thames Valley Windows has a vast array of glass roof options from a luxury bespoke roof lantern to frameless structural glass roof light system and can help you with your project from initial contact and quotation to installation.
How much does a Glass Roof Cost?
To discover our glass roof prices now, call 0800 181 698 and request for a free no-obligation quote! Or contact us online and arrange for an appointment at our showroom or your home!