Most people will look through a glass window every day, but have you ever wondered what type of glazing is used in a glass window? Whether you're looking for a new bay window, a stained glass window or French doors suddenly you hear glazing solutions terms that can mean very little but can make all the difference to the aesthetics and performance of your glass window and doors.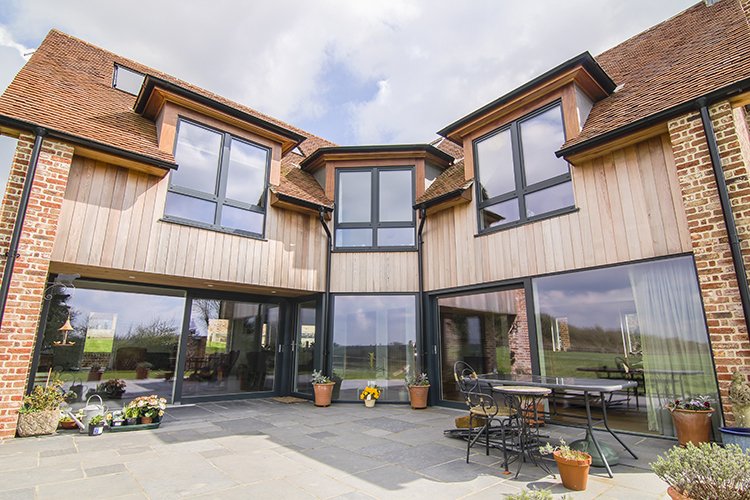 Thanks to the everyday advancement in glass manufacture and technology to enhance its appearance, strength, and performance, there are now more glazing solutions available for virtually any kind of customer requirements.
The choice is more than ever before, and with the current trend among homeowners in using the latest modern frameless glazing system in their projects its vital to ensure you choose the right glass to provide the best U-value for energy efficiency or G-value for solar heat!
These frameless windows and doors provide the maximum amount of visible glass and least amount of framing to open up their property and allow natural light to create a wonderful sense of spaciousness into their homes.
Many homeowners now want the 'Grand Design' look for their homes with the use of minimalist large glass windows and oversized sliding glass doors or bi-folding door system with minimal sightlines, which is usually aluminium.
WHAT IS U-VALUE AND G-VALUE, AND HOW DO THEY AFFECT ENERGY EFFICIENCY?
When measuring how efficient glass can be at retaining heat, we make sure to measure the 'u-value' and 'g-value' of any product. With moves to become more energy efficient the world over, it's common we will consider these points during fabrication.
A u-value will identify how much heat a property stands to lose through glass windows and draughts. The higher this value is, the less energy-efficient a window, for example, will be. The lower the u-value, the greater the likelihood will be that your heating bills will be lower.
A g-value, meanwhile, measures infrared radiation. Otherwise referred to as solar heat, the lower the g-value, the less radiation is let through a glass window.
To improve the g-value, that is to decrease it, glass can be coated in a reflective solution. This will help to prevent heat from getting into a property and can help with cooling. The u-value can be similarly improved, too, with a focus on reflecting radiation.
Different types of glazing will help to keep heat within your property, while others will work hard to reduce glare, enhance security, privacy and improved acoustics. If you're unsure which glazing products will work best for you, always feel free to ask a glazing specialist like Thames Valley Windows for advice. Here's a glazing glossary of the industry terms.
WHAT DIFFERENT TYPES OF GLAZING ARE THERE?
So whether you are looking for frameless windows or minimal slim frame sliding door system, for your home renovation project or contemporary new build let's take a look at some of the different types of glazing products on the market. And why they might be of benefit to enhance the look of your home both internally and externally.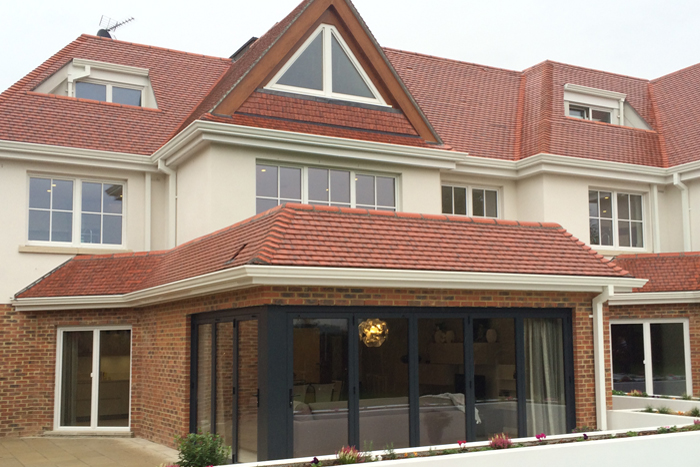 ACOUSTIC GLAZING
Acoustic glazing is an excellent choice if you live near to an airport, busy roads, railway or want to cut down on high levels of noise entering into your home.
Acoustic glazing benefits from an inner layer of acoustic PVB membrane (Polyvinyl Butyral) between two panes of glass. These two panes have been bonded together, giving the look of a single pane of glass.
The PVB layer creates an acoustic membrane reducing both noise and sound vibration transmitting through the glass, giving you your peace and quiet!
LOW-EMISSIVITY (LOW-E) GLASS
Low-emissivity (Low-E) glass has a special non-toxic coating that blocks out heat but not natural light to reduce its emissivity.
To achieve the thermal efficiencies required by the UK Building Regulations. Every glass framed window or door installed into residential properties or commercial properties. Low – E glazing must be used in all double and triple glazing sealed units.
The glass window is coated on the inside with a thin colourless, coating either 'hard coat' or 'soft coat' to improve energy efficiency and thermal insulation and lower the U-value of the window.
The difference between hard and soft coat is the manufacturing process, although the soft coat has a lower emissivity than hard coat so it can achieve lower u-values.
The coating controls the room temperature in the summer by allowing the natural light to transmit through the window and reflecting the infrared heat keeping the room light and fresh.
During the winter when there is not much daylight or heat being transmitted from the sun, but the central heating or fire is keeping your home warm, the coating will stop the heat from escaping through the glass window, by reflecting the infrared heat back into the room. It also protects furniture and carpets from UV fading.
This type of glazing can potentially cut down on energy bills.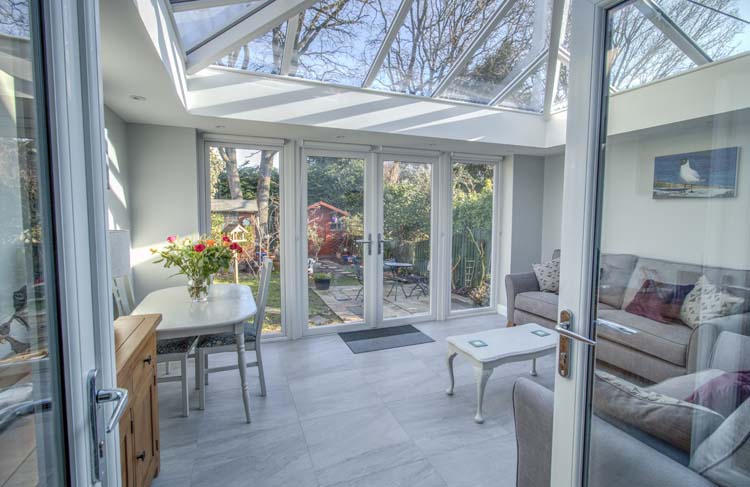 LOWER MAINTENANCE GLASS
You can even install lower maintenance glass which is regarded as 'self-cleaning'! This glazing is designed with a unique finish or coating which works by reacting with the UV light from the sun and with rainwater to degrade and clear away dirt and debris.
It's a brilliant option if you're unable to clean specific glass windows or roof lanterns, but will still require a hose down during the summer months.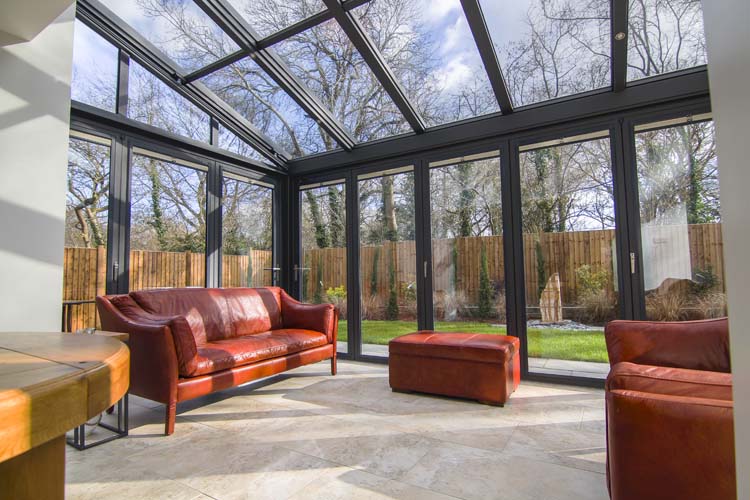 SOLAR CONTROL GLASS
Solar control glass does precisely what you think it does! This type of glazing has a special solar control coating applied similar way to Low-E glass to allows natural light to pass through a glass window. While radiating and reflecting away the sun's heat, it also helps to reduce the sun's glare coming into your property and reduces the need for blinds or air conditioning.
Solar control glass can be combined with lower maintenance and Low-E glass solution and incorporated into double glazing windows to offer controlled temperature all year round and is commonly used in conservatories, orangeries and full-glass extensions such as Wintergardens
Solar control glass is available in a range of different aesthetic options; reflective, tinted, and neutral.
SAFETY GLASS
Toughened glass and Laminated glass are two types of safety glass. Even though they look the same, both types of glass are used for different purposes.
Toughened or tempered glass – This type of glazing is the strongest form of glass; making this glass five times more durable than standard glass and is specially toughened to prevent easy breakage. There are rules in place where safety glass must be installed, any glazed area in a window that is less than 800mm from floor level.
Laminated glass is produced by combining two glass panels with one layer of plastic in between this plastic is called polyvinyl butyral. Should any damage occur, the layer of the plastic holds the fragments together, preventing them from falling, reducing injury risk even further. This type of glass also makes it difficult for an intruder to access your home.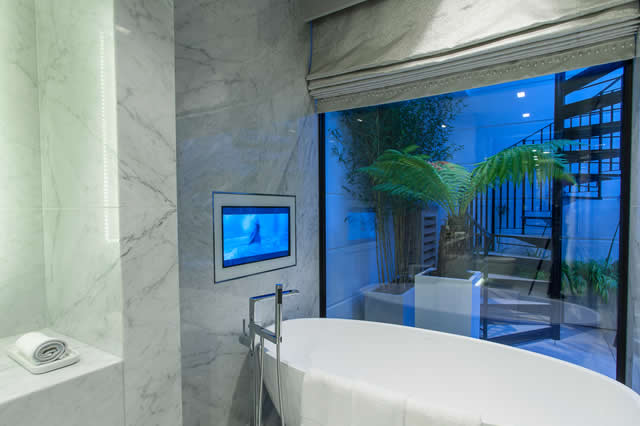 SMART GLASS
You can even install smart glass, also known as switchable glass or intelligent glass in your property to provide privacy on demand!
Smart glass technology allows you to change the transparency of your glazing between transparent and opaque glass at the flick of a switch or swipe of a phone.
It's a fantastic innovation for smart homes, and perfect for immediate privacy or sunlight protection without the need for curtains or blinds.
Are you looking to replace or choose windows and doors? Contact us to find out more about how a Thames Valley Windows glass solution could become a part of your project.