To many people, 'glazing' is a word that literally refers to windows and doors. However, dig a little deeper, and things can get a bit more complex even than that! The term 'architectural glazing' typically applies to any form of glazing installed into a commercial building design. However, on the whole, we use the term to refer to particular features and points of interest in a building. For example, glass could be used as part of exterior walls, i.e curtain walling.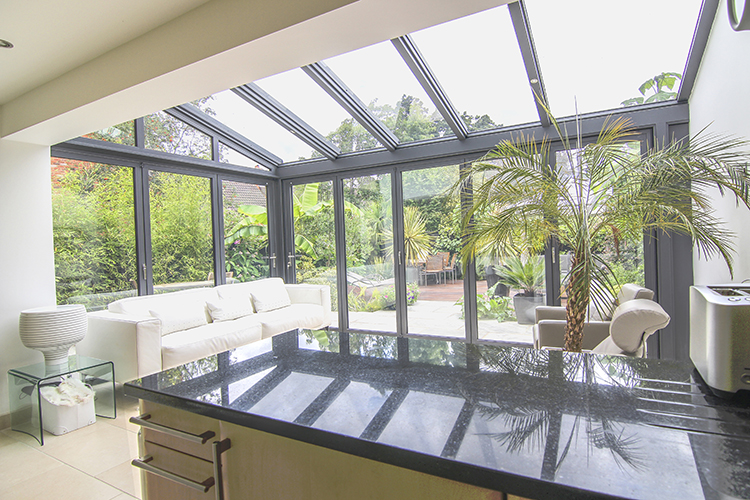 Architectural glazing is more than just a trend. While it has become trendy in a short space of time, this type of glasswork is common place all over the UK, as well as across the globe. London is filled with spectacular iconic architecture glass buildings, from the Shard, Gherkin and Walkie Talkie.
It is no longer an architectural glazing solution just for the commercial. Over the last decade, the way we live in our home has changed. From properties with lots of individual rooms, we now combine these rooms and aspire to be more social with contemporary open plan living with glass being a key component in the structural design. Thanks to tv programmes like Grand Designs covering the amazing self-build projects, many homeowners are inspired to take many of the design ideas and interior décor and apply to their own homes, no matter how small or how big
Vast expanses of glass are impressive and aesthetically pleasing. They offer many benefits which are why many modern and traditional homes in Berkshire, Hampshire, Surrey, Buckinghamshire and Oxford from mansions to townhouses are using architectural glass or glass extensions over traditional materials to create spectacular facades and features.
There has never been a finer time to choose glass as the main component in your home renovation or new build. But why?
Why Use Glass?
There are plenty of great reasons why architectural glazing is so popular with homeowners by adding a modern glazed product to a property it invites the outside in and fills our homes with natural light to allow maximum transparency from room to room
It's popular, too, for its luxurious look and how it improves the aesthetics of many properties
Architectural glass or glass extensions are more of an integral part of house design and are relatively new in comparison with traditional conservatories. Homeowners are now seeking out higher-quality aluminium structures, so increasing demand for the latest modern glazing solutions to create a seamless transition from outdoors to indoors with bi-fold doors, large glass sliding doors and solar roof lanterns.
We love being 'outdoors' all year round, whatever the weather. That's why many homeowners choose to install glass walls and folding doors to their properties for harmonious, spacious living which opens up their home to the interplay of light and the beauty of nature from sunrise to sunset.
To help you appreciate just how beautiful and versatile architectural glazing or glass extensions can be, read on!
What Are Some Architectural Glazing Ideas?
Architectural glass doesn't ever follow one rule or pattern; it can be subtle or elaborate. It can arrive in various shapes and sizes from understated to magnificent. For example, people can choose to swap their existing exterior wall for a glass facade of a moving glass wall system with minimal sightlines and maximum visibility.
Here at Thames Valley Windows, we offer homeowners the choice of part-glass or all-glass extension to add that bit of extra 'wow' to your home
Although they have a modern feel, the simplicity of glass extensions means they suit any property, from contemporary to period – residential and commercial.
With a full glass extension, you can retain the bricks-and-mortar look of the existing property. And choose to install a modern glass box extension with an array of glazing solutions, including self-cleaning solar controlled glass; we offer a wide range of door systems including bi-fold and sliding doors.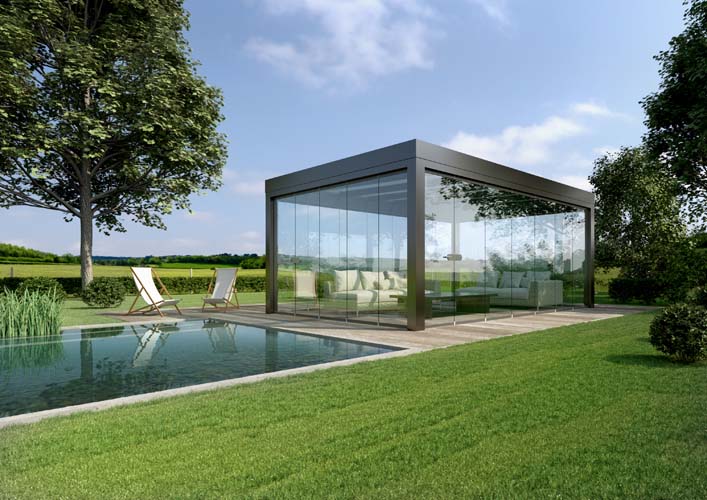 You could even choose a garden room or external office with a Solarlux SDL Acubis with slide and glide glass panels all around, and without a frame insight for unobscured views.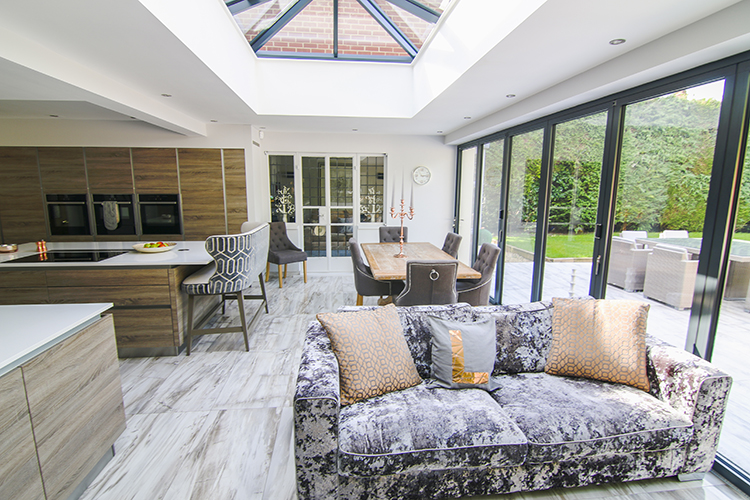 With part glass, you can choose a modern Orangery which is especially suited for the kitchen/dining lifestyle experience; it creates beautiful open-plan cooking, dining and family room, the hub of the home. By incorporating roof lights or lantern for the illusion of space and bi-fold doors, this can create a visual flow from the house to the garden.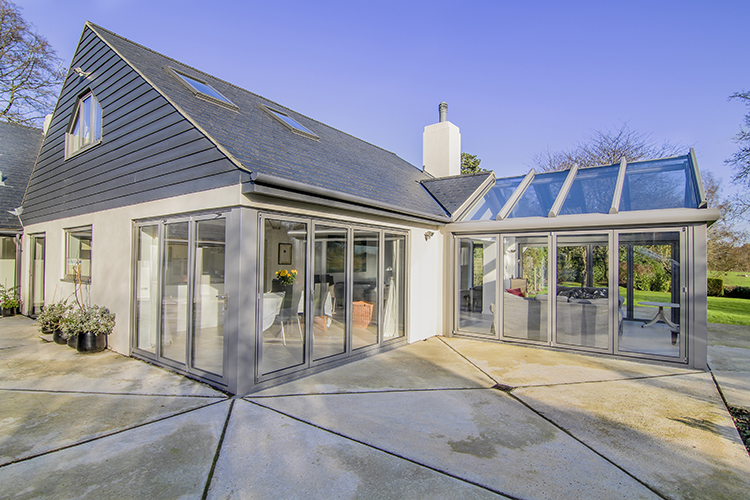 By adding a modern contemporary Wintergarden and maximises the use of light and space, by either extending the kitchen or you may prefer to use as a garden room whatever the season the choice is yours.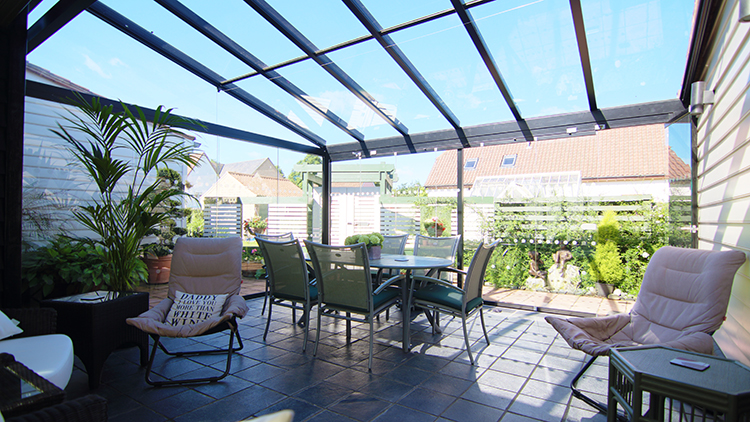 Create a roof with a view with a glass canopy from Solarlux, a modern 'inside-outside' space and one of the simplest ways to enjoy your garden and alfresco dining whilst being sheltered from rain or sunshine.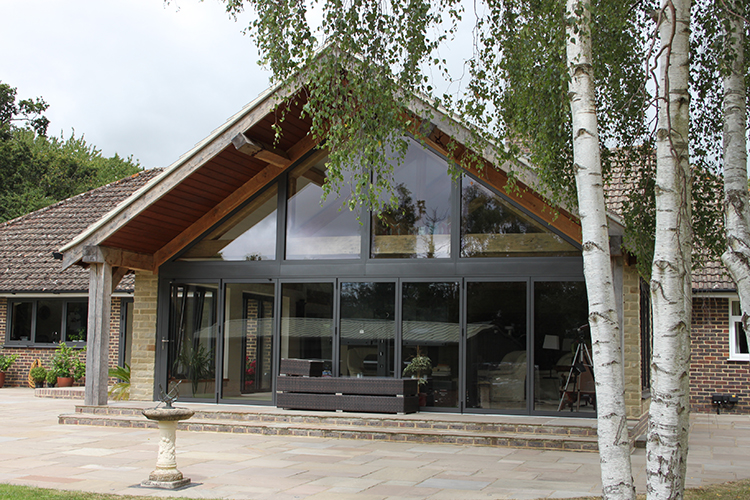 Curtain walling is also another modern architectural glazing solution, where you can replace one side of your property with glass. In East Grinstead, we designed and installed a curtain wall into the entire gable end of a 1960s bungalow incorporating Solarlux folding doors and windows.
How Can Architectural Glass Improve the Look of a Home?
More homeowners are now choosing not to move but to extend their properties with more glass in place instead of solid fixtures to aspire the modern way of living through innovative design.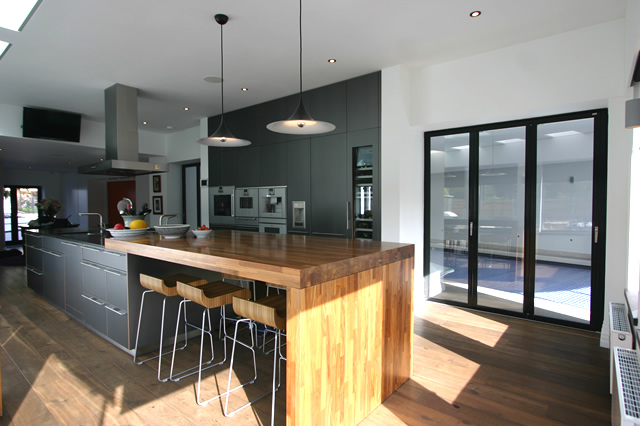 The kitchen has always been the heart of every home, and the most popular room to extend for additional home living space with bifold or sliding doors and a glass roof lantern in your kitchen extension to get even closer to that outside view and achieve that spectacular effect
Homes which fail to get much light throughout the year will arguably benefit from a glass system that makes the most of the little British sunshine we actually get!
Architectural glass can help to add personality to your home. We all know that glass lets light in, but what about the view from your property whether it is the back garden, costal or countryside or a cityscape an inspiring view will transform your living space and bring the outside inside.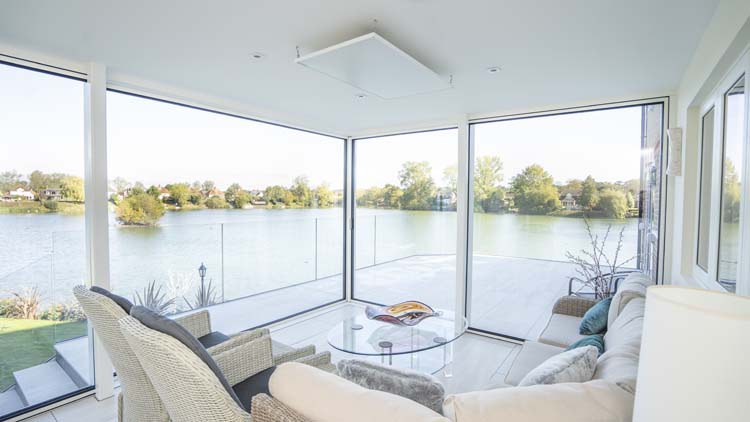 Our Solarlux CERO III moveable glass wall system with minimal sightlines allows maximum visibility with floor to ceiling glazing gives this modern glass extension the most amazing views
Don't Move: Extend
These bespoke glazing solutions require dedicated expertise and an incredible eye for detail. Therefore, it makes sense that you should look to an architectural glazing company like Thames Valley Windows with more than 35 years experience in creating unique and innovative designs from inspirational glass structures to minimalistic contemporary kitchen extensions.
We have been improving properties throughout the South East and have worked on numerous architectural projects, including high-end luxurious properties, listed properties and commercial.
Enhance your property with one of our impressive, visually stunning glass door systems or high performing glazed structures. With our expertise in innovative design and glazing technologies, we can help bring your vision to reality so you can live your dream lifestyle in your own home.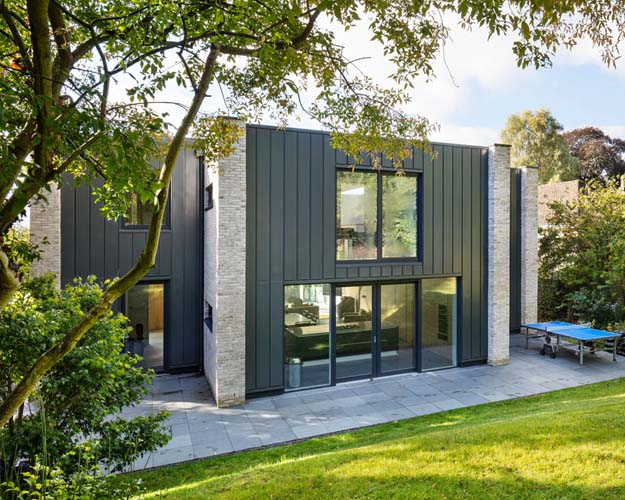 Many of our projects are house extension or new builds, and one new build was designed and installed by us even featured in Grand Designs. Using our specialist design and survey service, we can help guide you through the whole process.
Our team have experience in architecture glazing, innovate design, surveying and installation; with specialist expertise and knowledge from many years within the double glazing industry. They love to design beautiful glazing solutions with quality products.
We are design-led and offer an extensive range of products, including windows and doors in a multitude of materials and finishes.
Contact us today, call 0800 181 698 and request for a free no-obligation quote! Or contact us online and arrange for an appointment at our showroom or your home!