What are some of the things people are looking for when they decide to replace their windows? We take a look at the trends we're seeing on people's wish lists; the top 3 window trends for 2018.

Trend #1: Maximising Light
The primary reason for installing windows in our homes is to let in light. It's the very reason windows were invented! It makes sense then to ensure that we get the maximum amount of light possible.
There are many things to consider when replacing your windows; budget, uPVC versus aluminium, timber versus timber-effect, colour, window furniture, etc. However, another important factor is the frame. If you want to maximise the amount of light coming in – and your views out – choose a window design with as little frame as possible. Aluminium frames are one of the slimmest available but there are other ways to reduce the amount of frame.
Don't assume you have to replace your windows like for like. If your current windows have fan lights – the little windows at the top – are they really necessary? How often do you use them? Would it matter if you opened the main sash instead? Most double glazed windows have a night lock option for secure ventilation. This allows you to have the main sash open in a locked position. The gap is wide enough to allow for a draft on warm days, or to let the kitchen smells out, but not so wide that the cat can escape!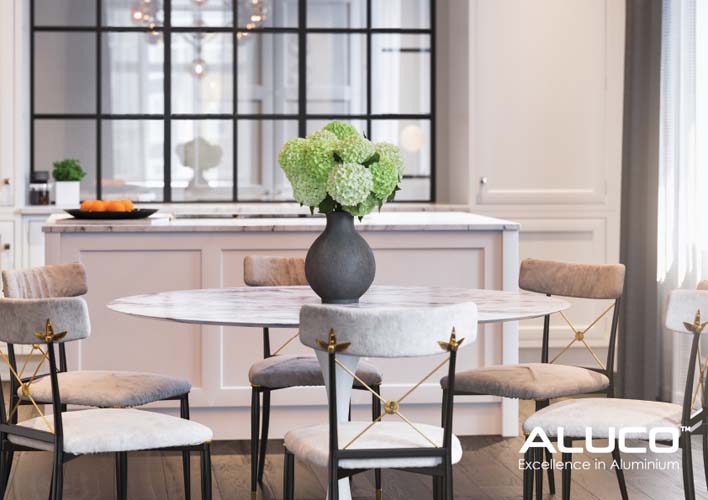 Trend #2: The Industrial Look
Open-plan living is as popular as ever. Creating light and airy spaces by knocking down the odd wall to create a sociable living/cooking/eating area for our family and friends is on many wish lists! There are only so many walls that can be removed, though, and this is where people are starting to discover steel windows as partitions, which also taps in to the trend for the industrial look.
Replacing solid walls with Heritage-style floor-to-ceiling steel windows is the ideal way to retain that light & airy look and feel, while subtly segmenting zones. With their black, slim frames, steel windows are striking yet minimal and can suit many different styles of homes. The steel is often recycled, strong and thermally efficient.
As well as creating the industrial look indoors, there is of course, the option of adding aluminium windows and doors to give your home an industrial look from the outside, too. Aluminium windows and doors are enjoying a renaissance at the moment. Slim frames create a clean and simple look whilst letting in light and maximising sight lines. Two trends in one!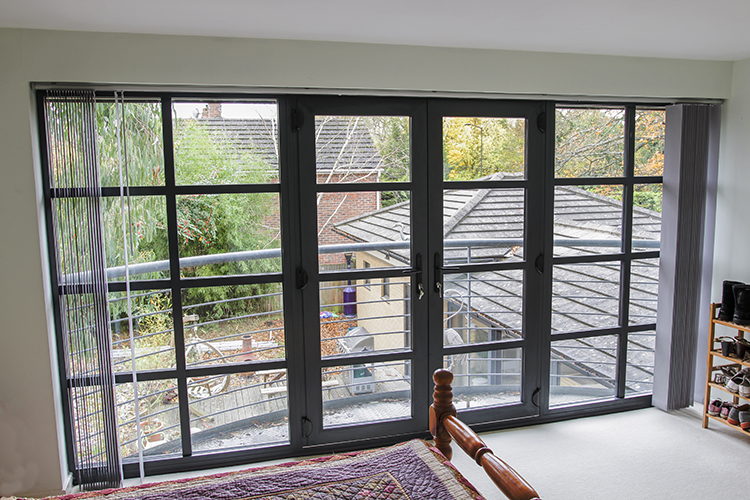 Trend #3: Energy Efficient Glazing
All double glazing or triple glazing is – or should be these days – energy efficient. If your windows have been glazed and fitted by expert window fitters, the glazing should help to keep your home weatherproof and secure.
Where there is a large number of windows or a large amount of glass, such as in a Conservatory or Glazed Extension, there is a special type of energy-efficient glass called Low-e Glass, or Low-emissivity Glass. This glass has a transparent coating which significantly reduces heat transfer meaning that even in the colder months, the room is at a comfortable temperature. This is particularly useful if your windows are north or east facing. Windows with Low-E glass will improve the energy efficiency of your home as well as reduce your heating bills and carbon footprint.
High-performance windows with ultra-low u-values and excellent soundproofing are perfect for those wanting to achieve passive house standards. If you live near a busy road or on the flight path, high performance, energy-efficient windows will significantly reduce the noise from outside as well as your energy bills!
If you're thinking about making improvements to your home, please do get in touch with us.