Choosing new windows for your property is a big decision, as home window installations usually only take place once every 10-15 years so getting the perfect window styles is important. Whether it is a home improvement project or a new build you'll be looking for something which not only complements the style and look of your home, but that provides the functionality you're seeking to achieve, as well as maintaining the theme of your home.
The amount of natural light is also an important factor to consider, and whether your home is south or north-facing, so many factors come into play when choosing the best windows styles to suit your home, so we'll take a look at windows styles for the main types of property here and provide helpful guidance to assist you in making the right choice.

New Build
Fresh and modern with clean lines, new build homes are pleasing to the eye and have been created with modern materials from floor to ceiling. New builds offer people a contemporary way of living, often minimalist, and so the windows need to reflect this. Materials used in new builds often involve plastics or aluminium, so uPVC white or black windows are most suited to this style, and this can be in tilt and turn windows or casement windows.
These types of windows are energy efficient, easy to maintain and look good for years, give excellent insulation values and are relatively inexpensive compared to other window styles. You can even opt for a bay and bow window or roof window to create an eye-catching first impression of your home.

Period Property
A period property from the Georgian, Edwardian or Victorian eras is national treasures and a throwback to days gone by and how our ancestors used to live and perceive design. Today there are thousands of such properties in the UK, and when it comes to replacement windows homeowners have a few different window frame options to choose from.
The most traditional material to be used here is wood, however, this can often be expensive so there are a number of timber alternatives that you can use to give the property the original look and feel, but with the insulation value and maintainability that comes with 21st-century materials. You can consider secondary glazing or even sliding sash windows.

Barn Conversion
Barn conversions are wonderful architectural projects which take large, functional agricultural buildings from decades ago and transform them into modern and spacious living areas. With such a large internal area, keeping the space warm in winter can be a challenge so the choice of window frames and the U-Value of the panes of the glass plays a large role in maintaining low energy bills as well as being respectful to the original building.
Many modern conversions now choose to use aluminium frames, either contemporary or traditional, to give a sleek profile and add a touch of modernity to what is essentially a dated exterior. For a higher cost, timber windows can be used instead to maintain the integrity of the structure, but large fixed windows can send costs considerably higher than expected.

Oak Frame
Buildings with an oak frame are some of the most beautiful architectural designs for a property, with a chunky design dating back years yet still retaining classic charm. With such types of buildings, you want to maintain the beauty and original style without detracting too much by using framing materials that do not suit the overall look and feel of the property, such as uPVC.
Timber is usually the way to go here, with a similarly coloured wood to enhance the look, although a modern double glazed timber-look alternative may be suitable for some properties. Depending on the style and how large the windows are, you may even find it appealing to insert aluminium frames which give it a fresh feel yet still retain that olde worlde allure.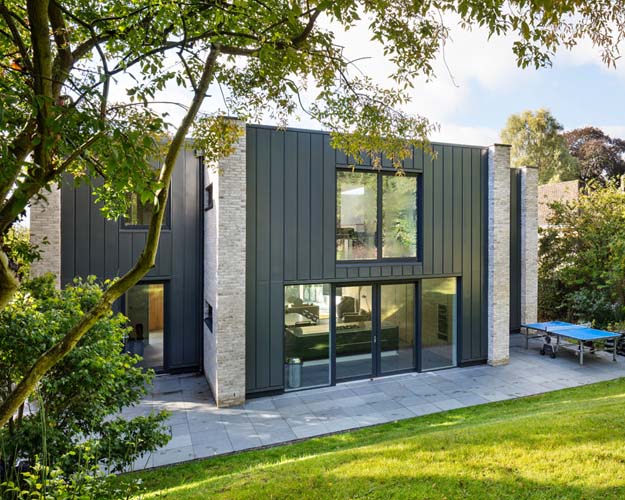 Timber Clad
Bold and beautiful, timber-clad buildings are a design style that has endured for many years but has seen a recent resurgence in modern architectural style thanks to the clean lines it produces and the natural feel it exudes. Coming in a variety of styles, timber-clad buildings can be wholly or partially covered in clad boards in a range of colours and textures.
Choosing triple glazed modern windows to go with this style of building is often a clear-cut decision, being uPVC or aluminium frame. uPVC windows are going to give you a modern look with easy manageability, however may detract from the overall look.
Aluminium on the other hand is slightly more expensive but well worth it in most cases as it provides an excellent contrast to the timber in terms of both colour and texture. The dark metal on the light-coloured wood creates a beautiful balance that is hard to match.
If you're struggling to find the perfect windows for your property, get in touch with Thames Valley Windows today and we'll be happy to recommend window styles that will complement the aesthetics of your property.