Decorating your front door with a Christmas wreath is one of the many traditions for homeowners in Berkshire, Buckinghamshire, Hampshire, Surrey, Oxford and South East.
Whether you have a composite door, aluminium entrance door, a traditional timber door, or modern uPVC front door, a festive wreath adds Christmas cheer to the entrance of your home.
If you haven't decided between hanging a fresh holly Christmas wreath or an artificial door wreath, we look at ways to hang a wreath without making holes or damaging the front door.
Depending on the material of your entrance door, you may need to adapt the way you hang your Christmas wreath. We have put together a few ideas.
Ribbon or twine
A long piece of ribbon or sparkly twine work perfectly. Loop the ribbon around the wreath hang it over the top of the door and secure it inside by tying it to the letterbox fitting.
If you have a uPVC or an aluminium front door, you can use a suction hook on the back of the door to tighten the ribbon and hold the wreath in place. A suction hook also works well on glass, although they can be temperamental with heavy wreaths, so don't expect them to hold for the duration of the festive holiday.
Suction hooks are simple to use and easy to attach and remove and they do not cause any damage to your front door.
if your front door already has a door knocker, you can tie the ribbon to it to hang your Christmas wreath without any damage
A top tip is to use a festive ribbon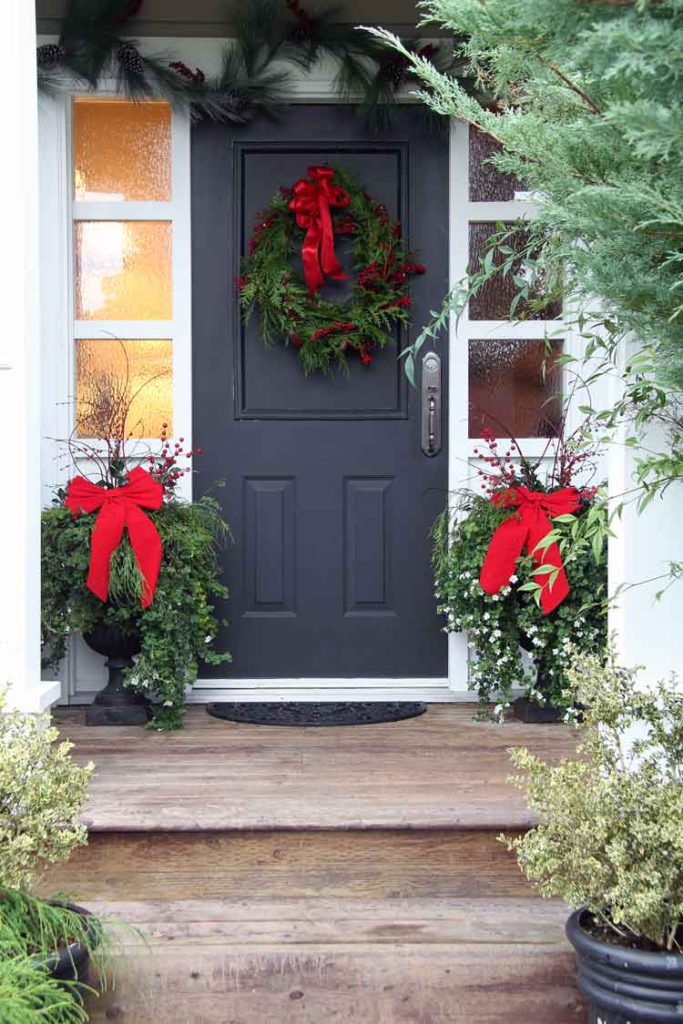 Over the Door Wreath Hangers
Over the door, wreath hangers are a popular choice as they are the easiest and most secure way to hang a wreath with no attachments. Available in a wide range of festive or plain designs and colours in either metal or plastic.
They are designed with a curved hook that holds the wreath on the front and a square flat edge sits snugly over the top of your front door.
Over the door, wreath hangers can work on most traditional timber doors without a problem. Still, we do not recommend them for modern uPVC doors or composite doors because they can damage weather seals and affect thermal performance.
A top tip for a metal wreath hanger is to add a piece of felt on the back of the hook and flat edge to prevent it from scratching.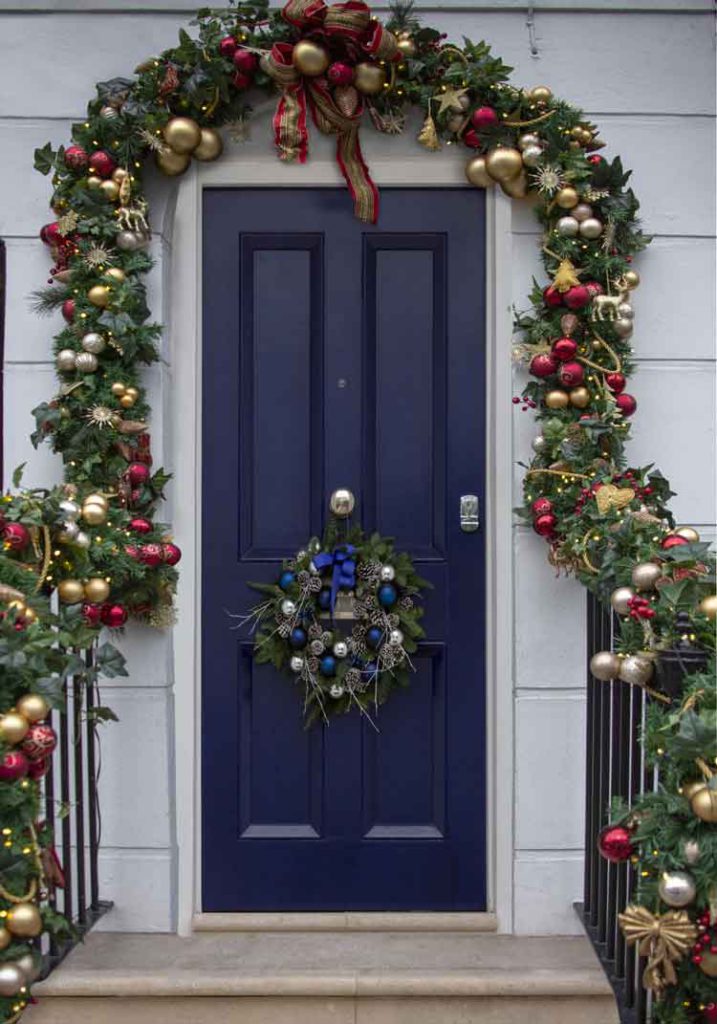 Magnetic Wreath Hangers
If you have a modern aluminium or composite door, then these front doors are reinforced with steel so a magnetic wreath hanger could be a perfect choice, as they will attach and hang the Christmas wreath easily.
No Nails, Screws or Sticky pads
If you have a uPVC, aluminium or composite front door, do not use nails or screws to attach a wreath as this will cause damage to the outer skin and allow moisture into the door affecting both the performance and invalidate your warranty.
Avoid sticky pads, and tape as these can leave marks or when peeled off and remove any coating or paint as well.
How to stop a Wreath from Scratching your Front Door
It is advisable to cover the back of your wreath with some felt material to stop any scratches when it moves.

Modern Door Bow Trend
A new Christmas décor trend in recent year is decorating a front door with a large organza bow. Whether it be traditional red or a rose gold door bow, they are sure to add a touch of elegance to your entrance.
Front doors wreath and bows aren't the only way to decorate the entrance of your home. Why not place a festive garland with lights on the brickwork around your front door frame then there is no risk of damaging your door.
It is also advisable to give your front door a quick clean before you decorate it with a wreath or bow. For information on how to maintain your uPVC door click here
With 35 Days till Christmas, the countdown is on, but this year everything feels different. We have been in lockdown for the last months nine months, and many homeowners have decided to start the festive cheer early and decorate their homes for Christmas earlier than they normally would.
Facebook and Instagram have been awash with images of beautifully decorated Christmas trees and festive light-up decorations and why not? Whether we have installed your front door or not we would love to see a photo of your festive front doors!
Enter our 2020 Festive Front Door competition, to be in with a chance to win a £25 one4all gift voucher, simply head over to our Facebook page and enter our competition.
HOW TO ENTER
Like our post and upload an image of your festive front door on the post or your Facebook page and tag @ThamesValleyWindowCompany
The winner of our competition will be announced on Friday 18th December 2020.