Are you thinking of extending with a single-storey extension? Flat roof extensions are all the trend with homeowners, architects and builders and have made a comeback in popularity in the last few years.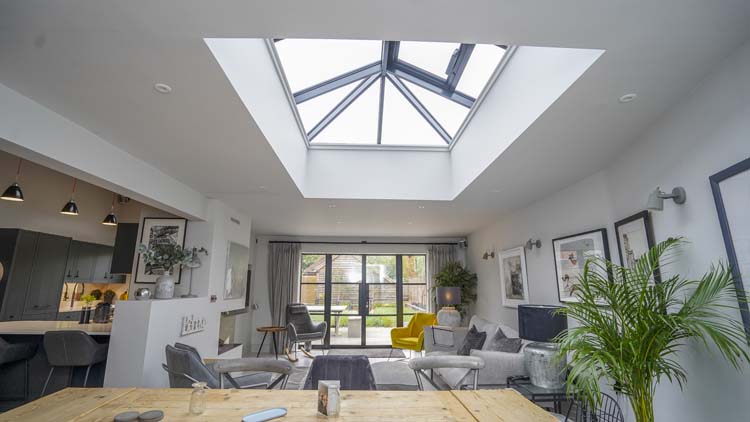 Flat roofs have taken a bit of a backseat since the early 1970s. Considered to be outdated and susceptible to water leaks, homeowners turned to pitch roofs.
However, the need for more glass and light within properties motivated the construction industry to develop and improve the flat roof design.
The desire to open up living spaces and bring the outside in with large glass sliding or bi-folding doors and roof lights has completely changed the design of flat roof extensions in home renovations or new builds.
Whether you're keen to extend your property for extra living space, want to change the layout of your rooms or are considering bringing more natural light into your property, a flat roof extension could be the perfect option
When designing flat roof extensions, one important aspect you'll need to consider is what type of rooflight you will choose in terms of aesthetics and functionality.
There are several options for you to think about, from a modern frameless flat rooflight to a traditional pitched roof lantern? Whichever you choose will be a stunning architectural feature of your new flat roof extension.
In this latest blog article, we look at the different options from triple and double glazed flat roof windows and ideas you might want to consider for your flat roof extension.
Extension Ideas to Inspire
Flat Roof Kitchen Extension
The most popular types of kitchen extensions are side return or rear extensions. They offer an excellent way of improving both the value and living space in modern and traditional properties.
Modern flat roofs are designed with a slight pitch so that water does not pool and is generally the preferred option for kitchen extension as it tends to be more cost-effective than a pitched roof. A flat roof also offers the opportunity to open up the space to the sky above with a beautiful flat glass roof light or roof lantern.
A frameless flat roof light is the preferred option for modern contemporary flat roof extensions for its sleek minimalist design. From fixed flat roof lights to electrical opening models to structural walk-on roof lights, any of these options will enhance the level of natural light and the living space.
A pitched roof lantern is the perfect quintessential option to blend in with a heritage or traditional property. It adds an extra touch of grandeur.
Elegant and stunning, they offer higher ceiling space creating a wonderful enhanced ambience to the room and provide more of an architectural feature with the wow factor.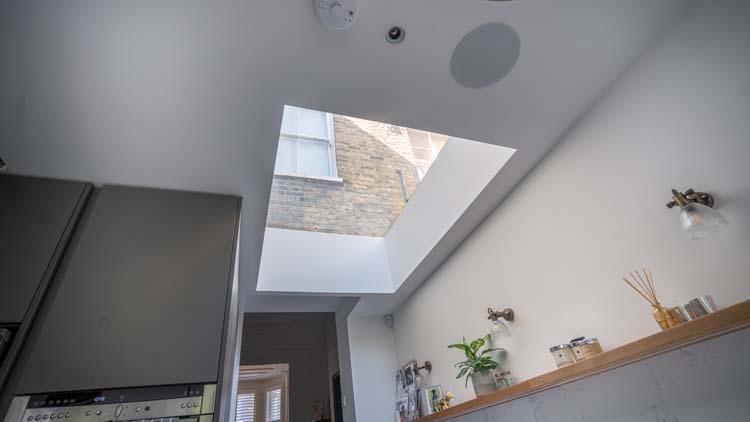 Of all the rooms in our homes, kitchens are often where we spend most of our time preparing and eating meals. The pandemic has changed homeowners, lifestyles and the move away from the traditional kitchen to extend the property with a flat roof extension and create an open plan living space to cook, entertain and relax with family and friends.

Open your Living Space to the Sky Above
Combined with the innovation and advanced technology within the glazing industry, both roof lanterns and flat glass rooflights are designed to offer outstanding thermal performance with low u values and solar control technology to ensure a comfortable living space temperature all year round with the option of glazing tints to reduce glare.
Both roof options offer self-cleaning glass for stunning views of the sky above; during the day, you can relax and watch the floating clouds pass by and view the twinkling of the stars in the evening.

Roof Gardens are Trending
Roof gardens and terraces have started to make a huge rise in popularity within residential properties in the city and the countryside.
With flat roof extensions, you can also design your roof terrace for entertaining. Why not make it a sustainable green roof, too? Great for sitting out and relaxing, if you already have a panoramic view of a garden beyond, an additional advantage point could add incredible value to your property.
Of course, this is just part of your extension. You'll benefit from an extra bit of space underneath, too! With roof gardens, do keep in mind that you may need to reach out for planning permission. Don't worry, as we'll let you know what to expect during our consultation.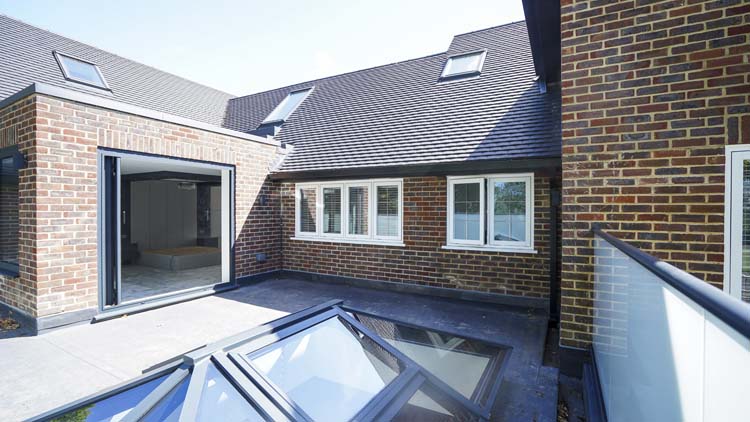 With over 37 years in the glazing industry at Thames Valley Windows, we love to design bespoke high-quality glazing solutions for flat roofs that add style and light to traditional properties or new builds in Berkshire, Hampshire Surrey and Oxfordshire.
We display a wide range of rooflights at our Bracknell showroom. Our rooflights are a bespoke design and are designed and manufactured to your exact specifications and requirements to enhance the living space. If you're unsure about the best roof light for your flat roof extension, get in touch with our experienced team of designers- and we'll help you bring your vision to reality!