Have you heard of the new cubic architecture and roof system? – let us introduce the new 2020 glazing product – Solarlux SDL Avalis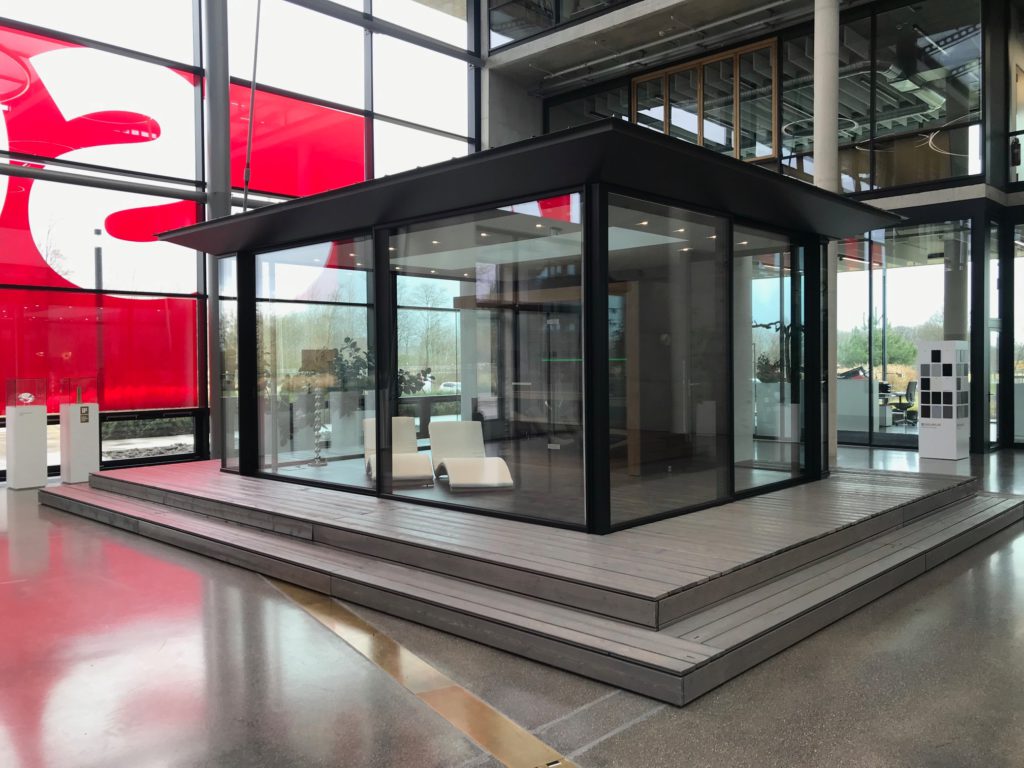 A few members of the Thames Valley Windows team recently attended the Solarlux Quality Partner Day on 14th February 2020 at the Solarlux campus in Melle to see and learn about their Solarlux products including bi-fold and sliding door systems, glass extensions, Wintergardens and glass canopies.
Solarlux provides this training day every year so that their quality partners have a better understanding of the products and installation.
In 1983 Solarlux invented the original bifold door concept, unmatched for quality, they are still the market leaders for high quality and innovative design and the chosen supplier of renowned architects and designers such as Sir Norman Foster and Daniel Libeskind.
Solarlux also displayed their new 2020 glazing product SDL Avalis a thermally insulated roof system! Which was revealed live during the quality partner conference. The SDL Avalis exudes minimalist perfection with its hidden skylight. Visually modern and follows the current architectural trends. It offers the highest thermal insulation, reliable ventilation and shade.
The minimal aesthetic of the SDL Avalis roof system becomes more apparent when you combine a slim frame bi-folding door or and minimum frame Cero sliding door system. Creating an extensive, transparent glazed vertical system that helps to create seamless boundaries between inside and outside.
Combine roof glazing with carefully chosen, and complementary doors create a light, bright and cohesive living space.
Here at Thames Valley Windows, we love the launch of a new unique design that meets inspiring glazing.
The factory tour was a fantastic experience to get a real sense of the Solarlux passion for innovative glazing solutions and industry knowledge. There were over 350 attendees from 15 countries, so the whole event was highly coordinated to ensure that everyone would see the working factory, gain valuable product knowledge and experience the entire process and thorough testing procedures onsite.
We had the opportunity to listen to the many steps and design considerations that go into the production of off the latest state-of-the-art glazing systems offering a better understanding of the exceptional German engineering, workmanship and innovation.
Great products, great company and a fantastic conference delivered! We learnt a lot again.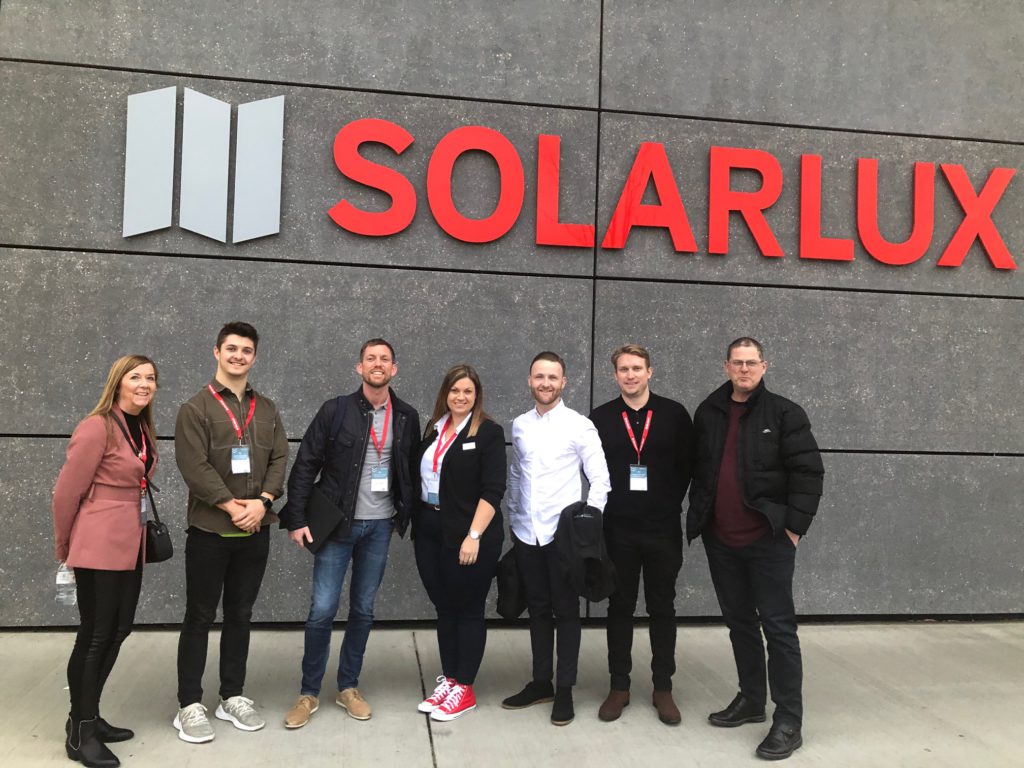 In short, Solarlux is following the trends of 2020 and building for the future.
Flat Roof Minimalism – Solarlux Avalis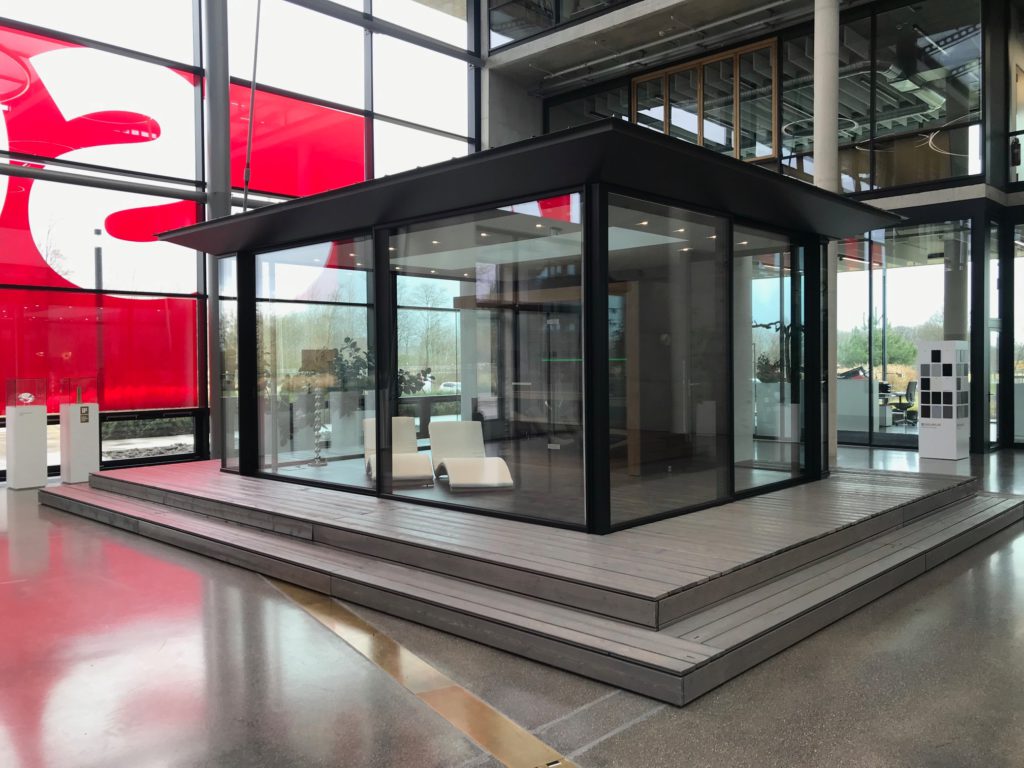 DRAINAGE
Minimum roof inclination 2· pitch
Drainage via a gutter to the drain
VERTICLE SYSTEM
cero II and cero 111
Bi-folding doors Ecoline, Highline, Woodline, Combiline
DESIGN
Two variants are possible:
Slanted roof overhang
Straight roof overhang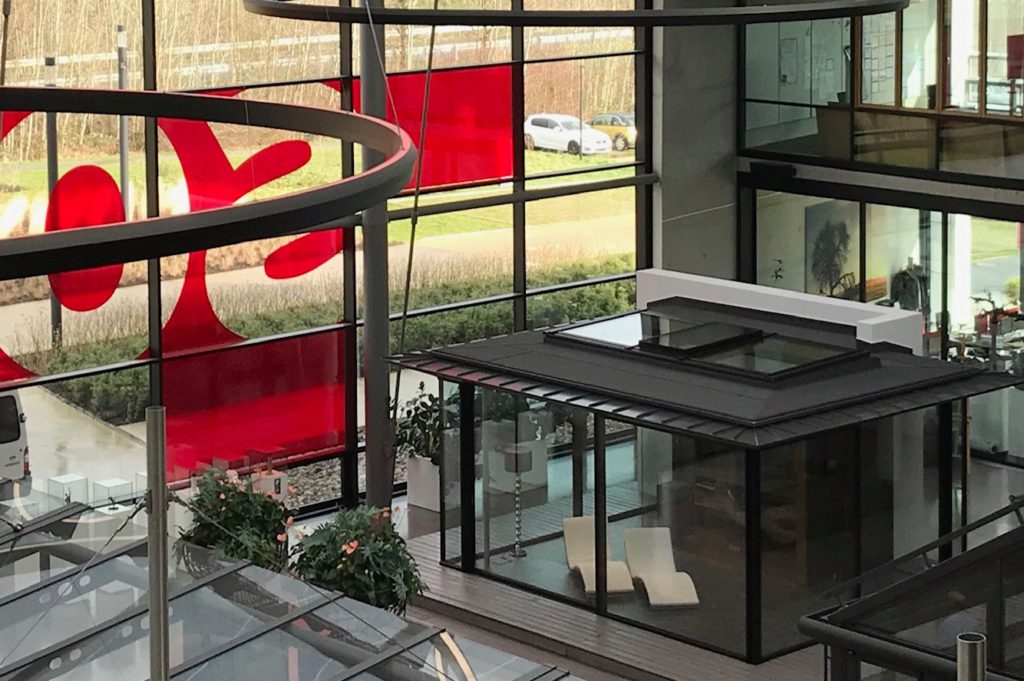 THE ROOF
Five-layer or multi-layer laminated wooden panel as the base for the roof.
No susceptibility to failure in the sealing level/ insulation
Thermal insulation above the load-bearing level
Load-bearing structure not vulnerable to condensation
The ceiling panel is considered vapour diffusion-tight
Pleasant indoor climate
Short construction time, fast installation
No defined spacing dimensions
DIMENSIONS & DESIGN VARIANTS
Maximum panel width 3.5 m
Maximum panel depth 6 m
Panels can be connected if necessary
Special sizes on demand
Panel thickness of 130 to 200 mm
Optionally available with roof cut-out:
Skylight with free choice of SOL roof profile system
Ventilation through a sliding window
SHADE
System-integrated shade solutions with awnings and/or Solarlux pleated blinds
As an architectural glazing specialist, we can work with you, your architect, builder and onsite tradesmen in Berkshire, Surrey, Hampshire and local surrounding areas to ensure your
double glazing is a perfect addition to your home.
To discover our Solarlux SDL Avalis prices now, call 0800 181 698 and request for a free no-obligation quote! Or contact us online and arrange for an appointment at our showroom or your home!