Both aluminium bifold doors and aluminium sliding doors add the wow factor to any style of property and are a must-have product for the contemporary UK living. They are the perfect solution for indoor/outdoor lifestyle as they open up your home to the garden and transform the living space and the way you use your home. The external doors are designed not only to be visually stunning, when open or closed but offer panoramic views of your garden and beyond while utilising the latest technology and locking system to achieve high security and outstanding weather performance results.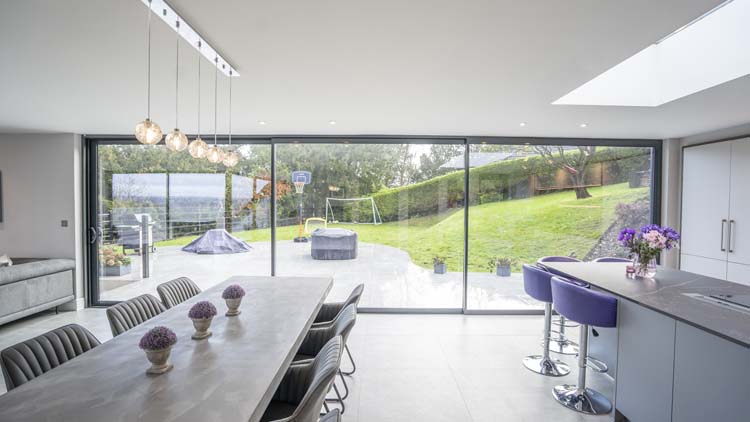 So whether you're building a new build, renovating your property or conservatory, or adding a new modern open plan kitchen extension. There are so many choices of double glazed windows and doors, and it is easy to get bogged down in choosing the right glazing solution for your home.
We have put together some practical tips and benefits worth knowing when weighing up your choices. Read on to find out how do you choose between sliding patio doors or aluminium bifolds that best suit your home and lifestyle.
Why Aluminium?
Here at Thames Valley Windows, one of the many questions homeowners in Berkshire, Surrey and Hampshire ask us when choosing bifolds or sliding patio doors is "which type of material do we recommend?"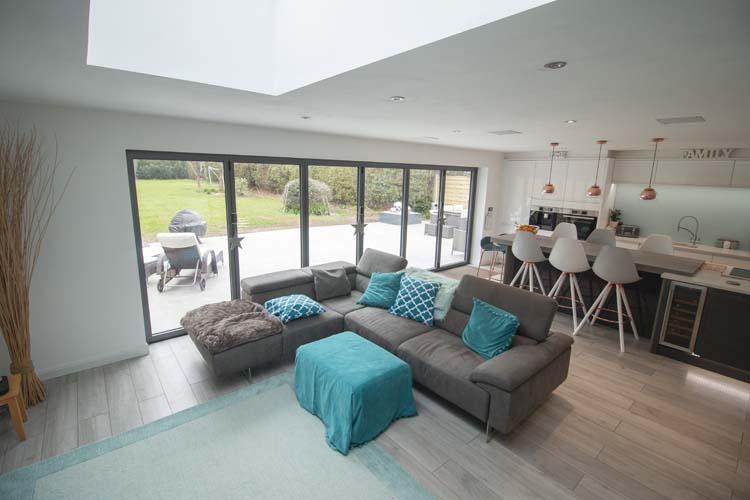 Typically they are made of, uPVC, aluminium, timber or a combination of both. If you are working to a limited budget and cost is of the utmost importance, then uPVC will provide the cheapest solution. The most expensive solution would be timber and aluminium will be somewhere in between. While cost is an essential factor, we do not recommend that you make a final decision based on price alone. There are some essential factors to consider depending on the location of the property. Choice of double or triple glazing, material, finish and the type of structure that the door system installed into.
uPVC is low maintenance, and low-cost material they typically have the weakest and thickest frames with a higher threshold and while is perfect for smaller windows and doors. It is less suitable for larger openings. If you want glass panels with minimal frames, this isn't the best choice.
Timber – Traditional timber is an excellent choice for character properties, but they do require regular maintenance to make them last and look good. If you do decide wood makes sure you choose a resilient hardwood.
Aluminium – Lightweight, low maintenance, high performance, thermally broken for superb thermal efficiency to help combat heat loss and condensation issues. Designed with slim line frames to allow more natural light to flood into the room while also allowing for stunning views, they are an excellent choice for energy-efficient contemporary properties.
Timber/Aluminium – Traditional timber frame with protective aluminium clad to the outside. Composite bi-fold doors offer the natural beauty and warmth of wood on the inside and high- performance and low maintenance on the outside.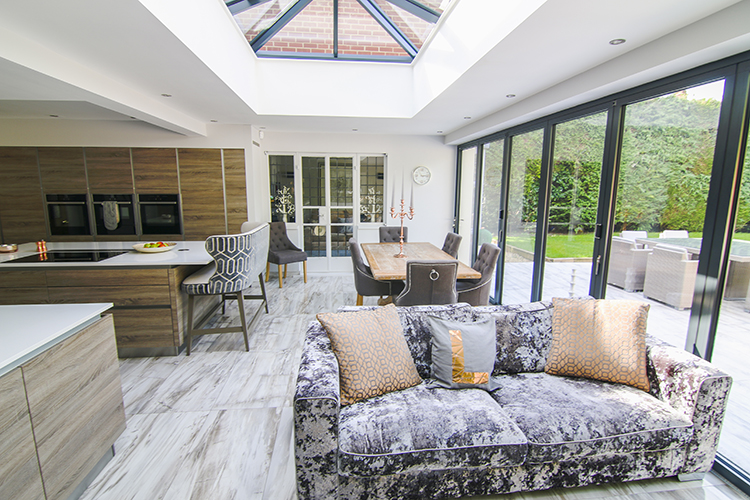 Appearance matters
The likeness between aluminium bifold doors and sliding doors is they both offer an entire wall fitted with floor-to-ceiling glass. They are popular architectural glazing products amongst homeowners, architects, and interior designers they are both designed with enhancing qualities to maximise the natural light and views.
Aluminium sliding patio doors are a stunning and aesthetically pleasing alternative to traditional French doors and a cost-effective alternative to contemporary bi-folding doors.
However, the significant difference between aluminium bi-folding doors and sliding doors is appearance and the way they operate.
If you have a large aperture to fill and you're looking for the widest glass panels that will let as much natural light into a room when open or closed, then sliding doors are the perfect glazing solution for you. The sliding panels combine contemporary styling with robust performance and will add a touch of grandeur to both modern and traditional properties.
The slimline aluminium sliding doors combine state-of-the-art performance with stunning aesthetics; they have larger glazed panels than bi-fold doors. In a nutshell, a slim framed sliding door with reduced sightlines will create a minimalist look that's both practical and impressive and offer more glass area for uninterrupted visibility when closed than a bi-fold door for your home and living space.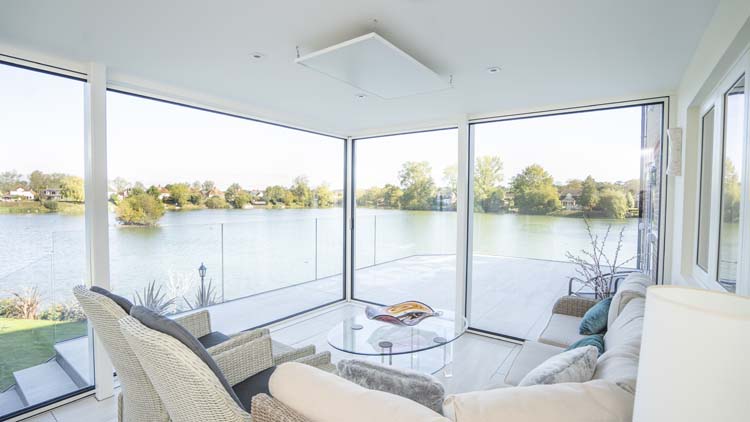 Fully Open
The biggest plus that bi-fold doors offer is the ability able to open inwards or outwards and that they can open fully from left or right and when concertinaed up the opening created is much more extensive. Also known as folding sliding doors, designed with a minimum of two panels up to a maximum of eight that elegantly and effortlessly glide along with a bifold tracking system.
The number of leaves (glazed door sections) that your bi-fold door system will have is also worth thinking about when considering the configuration. Most common configurations of bi-folding doors can create a traffic door which opens like a typical door and allows you to pop in and out.
With sliding doors, panels are often of almost equal width, and as one slides over the other, you are left with a 50% opening of the aperture opposed to the 80% or more created with a bi-fold door. However, the sliding doors use less space than open bi-fold doors.
Sliding glass doors can be designed with two, three, four or six panels, each panel can incorporate large panes of glass with slimline frames, to offer light-filled living spaces and much improved U-values.
The three most popular type of sliding door systems are :
In-Line Slide – the doors sit on rollers and slide with ease on double or triple track depending on your chosen style.
Lift and Slide – With the use of the handle by turning it 180°, it lifts the door a few millimetres onto the rollers, to slide open — a popular choice for large heavy sliding doors.
Tilt and turn or tilt – slide, offer a unique solution where the doors can be tilted for ventilation, or when upright will slide with ease. They do not do both tilt and slide.
Sliding doors are so flexible with configuration possible in almost every way imaginable.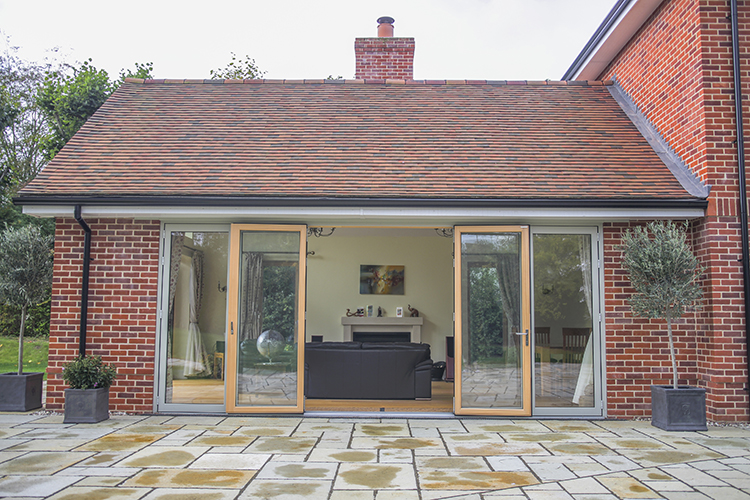 Are Trickle Vents Required
If you are thinking about new bi-folding or sliding doors for your home, you will either be replacing your old patio or french doors or fitting one to a new extension or new build home.
In some cases, a trickle vent will be required. Every home improvement project is different, but trickle vents are part of the current Building Regulations.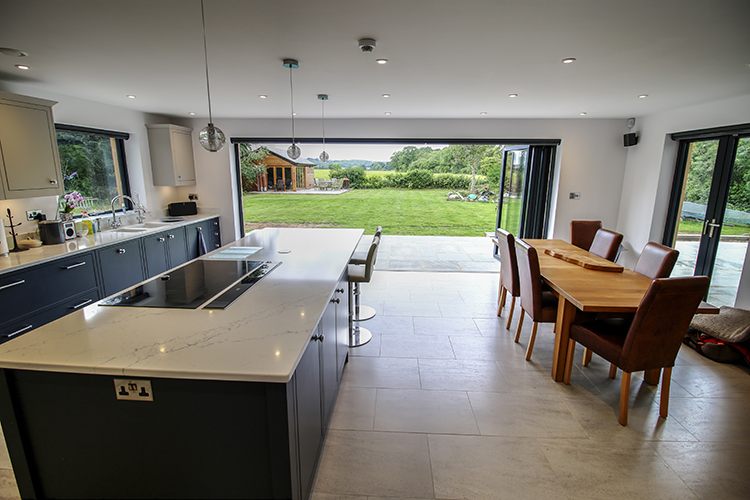 Glass Trends 2020
Here at Thames Valley Windows, we have seen that over the last 18 months that the trend for more glass in both residential and commercial properties has grown with no sign of it slowing down. With the demand for panoramic glazing, we have seen an increase in our architecture and design service and finding that aluminium sliding doors are increasing in popularity
Thames Valley Windows are a double glazing window and door company that has been designing and installing the highest quality bespoke bi-fold and sliding doors, for properties in Berkshire, Surrey, Oxfordshire and beyond. Every bi-fold door system is made to measure from sustainable, durable aluminium,  service/timber, timber and uPVC.
To discover our bifold and sliding door prices now, call 0800 181 698 and request for a free no-obligation quote! Or contact us online and arrange for an appointment at our showroom or your home!