As the summer draws to a close, are you ready to cosy up your conservatory? Get ready to explore the latest conservatory furniture trends for the autumn of 2023.
These autumn furniture trends will transform your conservatory or Wintergarden into a stylish haven, like a warm hug on a crisp autumn day.
From vintage pieces that exude charm to natural elements that bring nature indoors, you'll find everything you need to create an inviting and on-trend space.
So, grab your cup of tea and prepare to be inspired!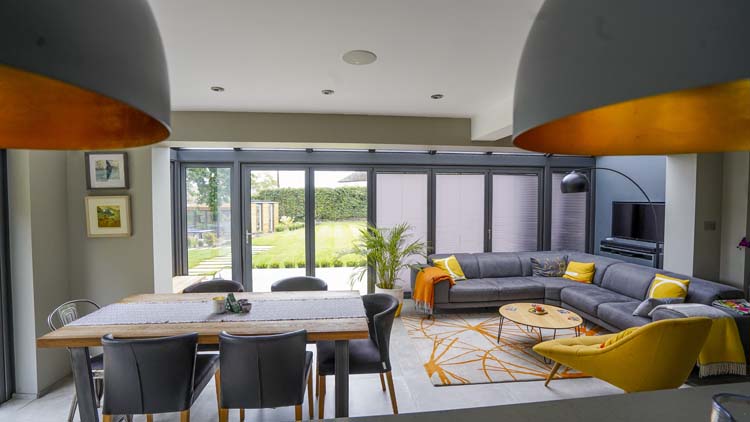 Conservatory Furniture Trends to Look for in Autumn 2023
Carpets and Rugs
When selecting carpets and rugs for your conservatory or garden room, embrace the latest trend this fall of 2023.
Step away from the ordinary patterns. Incorporate nature-inspired patterns or bold designs with central motifs in your flooring.
Gone are the days when carpets and rugs were merely functional floor coverings. Imagine the feeling of walking on a carpet that mimics the intricate designs found in a magical forest or the delicate petals of a flower. It's like having a piece of nature right under your feet!
So, this autumn, take the plunge and elevate your conservatory with warm and vibrant carpets and rugs.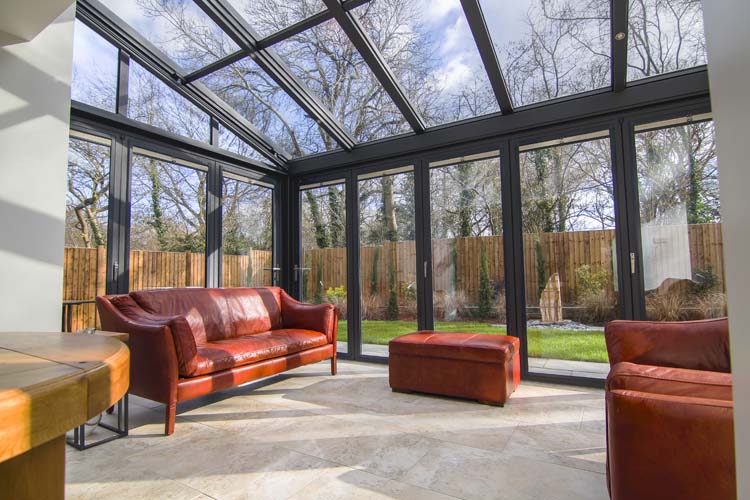 Warm Colours
Incorporating rich, warm, earthy colours is a must-follow trend to create a cosy and inviting conservatory this autumn.
Featuring deep ruby reds and earthy crimsons in your room's colour scheme creates an instantly warm and comfortable atmosphere you won't want to leave.
Here are three reasons why warm colours such as golden yellows, warm greens, orangey reds and lots of golden browns. The colours are dense, rich and warm and are a must-have for your autumn 2023 decor:
● Embrace Cosy Vibes: Warm colours are perfect for a sense of cosiness and comfort in your space. Imagine snuggling up on a plush ruby-red sofa with delicate crimson accents. Who wouldn't like to be wrapped in a warm blanket this fall?
● Sophistication & Luxury: Deep ruby reds and earthy crimsons exude luxury and sophistication, adding a touch of refinement to your conservatory. They infuse your environment with a high-end retreat feeling, bringing a sense of glamour to your home like never before.
● Create a Welcoming Atmosphere: Warm colours can create a welcoming atmosphere for your guests, making them feel instantly at ease. Warm colours will bring a perfect mood to your space when hosting a dinner party or a cosy night.
Incorporating warm colours in your conservatory is a trend worth following if you want an inviting and stylish space.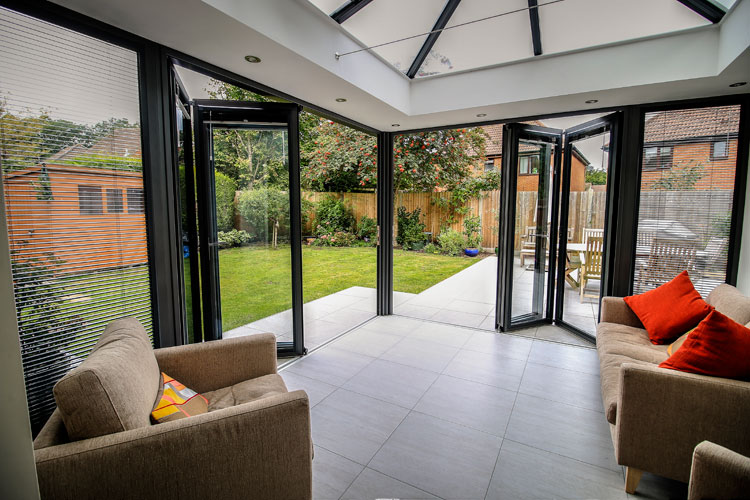 Earth Tones
As you update your home decor, don't miss out on this latest trend for autumn 2023 – incorporating earthy tones.
This season, the trend forecasters named 'Sage Leaf' one of the must-have colours.
And why not? This shade of green exudes calmness and serenity, making it the perfect choice for the colder months ahead.
Why should you embrace earthy tones?
● Aesthetically Pleasing: Earthy tones aren't just visually appealing; they have the power to create a soothing and comforting ambience in your conservatory. The combination of earthy hues will make you want to relax with a good book or indulge in a cup of tea on a rainy day.
● Texture and Harmony: Don't limit yourself to textiles and cushions. Incorporate natural materials like reclaimed timbers and stone accents. Imagine a wooden coffee table adorned with cascading dark green plants or a rustic side table made of reclaimed wood paired with earth-toned table lamps.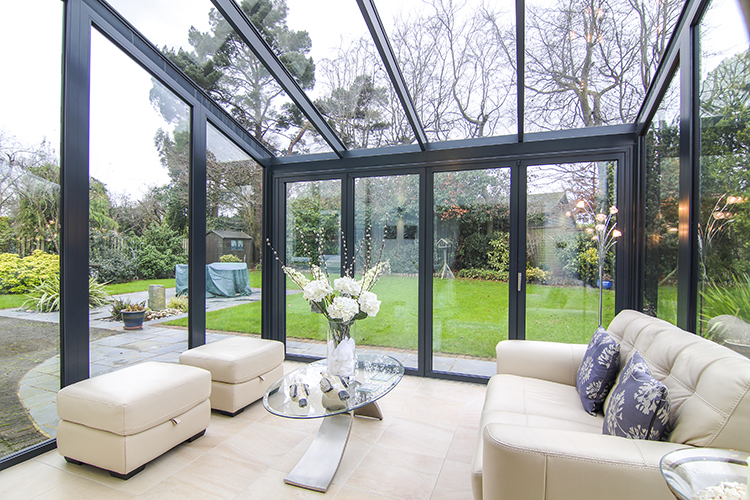 Natural Elements
Step into the captivating world of natural elements. Be amazed by the beauty and versatility of materials straight from Mother Nature.
Why should you incorporate natural elements?
● Bringing the Outdoors In: Experience the enchantment of lounging on a rattan chair, surrounded by lush green plants, as a gentle breeze caresses your face. It's like having a tranquil garden oasis in your conservatory.
● Channeling Serenity: Nature can calm our souls and bring us peace from the calming hues of water tones like greens and blues to the gentle sway of leaf motifs and floral prints. These elements transform your conservatory into a haven of tranquillity, allowing you to recharge and rejuvenate.
● Embracing Cozy Warmth: Natural materials' rich tones and textures bring undeniable comfort. Imagine the soothing warmth of walnut and oak finishes or the earthy textures of woven fabrics.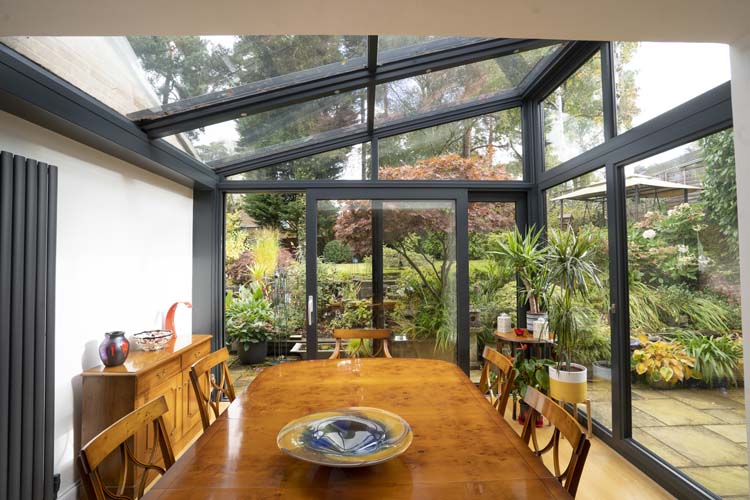 Vintage Furniture
Incorporate vintage furniture into your conservatory to infuse your space with nostalgia and unique character.
Here are three compelling reasons why vintage furniture is an absolute must-have this season:
● Time-Tested Quality: Vintage furniture stands as a testament to enduring craftsmanship.
● Sustainable Style: In a world that values conscious consumption and eco-friendly choices, vintage furniture is an exceptional option.
● Design Versatility: Vintage furniture encapsulates many styles, ranging from mid-century modern to rustic farmhouse.
Whether your goal is to create a cosy autumn retreat or a vibrant and eclectic space, there is a vintage piece that perfectly aligns with your vision. Take advantage of this timeless furniture trend this autumn season of 2023.
Frequently Asked Questions (FAQs)
How do I clean and maintain conservatory carpets and rugs to ensure they last throughout the autumn season?
These easy cleaning and maintenance tips ensure your conservatory carpets and rugs last throughout autumn.
● Start by vacuuming regularly in your conservatory to remove dirt and debris.
● Treat any stains promptly using a mild carpet cleaner.
● Avoid using excessive chemicals, as they can damage the fibres.
● Use a brush with soft bristles or a broom to gently sweep the carpets and rugs.
● Lastly, consider using a carpet protector to prevent future stains and spills.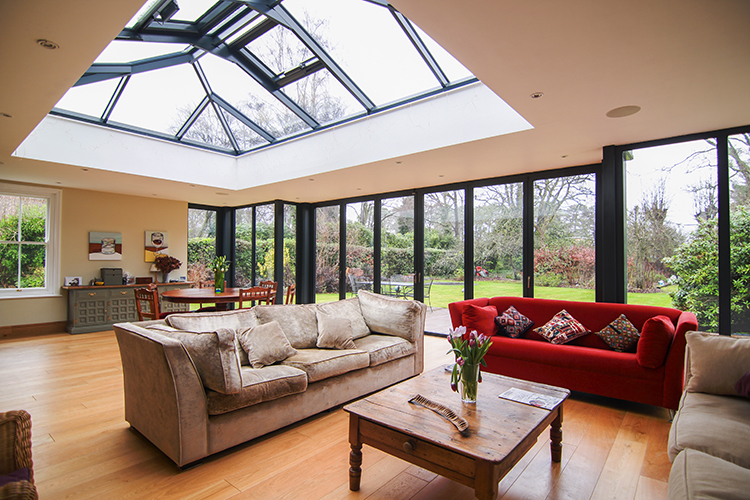 How do I incorporate warm colours into my conservatory furniture without overwhelming the space?
Try using accent pieces like cushions, throws, or rugs to incorporate warm colours into your conservatory furniture. Mixing textures and combining warm colours with neutral hues can create balance. Another option is to take a minimalist approach by adding a few key pieces in warm colours while keeping the rest of the space simple.
Are any specific types of vintage furniture particularly popular in conservatories this autumn?
Vintage-inspired furniture is all the rage; some specific types are trendy. Think beautiful rattan chairs, elegant cane sofas, and charming wicker tables.
Conclusion
If you forgot to hop on the furniture trends last spring or summer, don't worry. The Autumn is here, and it's time to get your decor on point.
From cosy carpets and rugs to the rich hues of warm colours and earth tones, every element will transform your conservatory into a sanctuary of comfort. Vintage furniture will add a touch of nostalgia, while natural elements will bring a breath of fresh air.
So, what are you waiting for? View your favourite online furniture store for the latest conservatory furniture ranges for autumn 2023.
If you are interested in Conservatory or Wintergarden costs for your Berkshire, Surrey or Hampshire home, you can request a free, no-obligation quote
Guest Post: Joel Velos