Introduction
Wrought Iron monkey tail window handles have been popular for almost a century and were used heavily during the 30s mass house-building era in the UK. The design of the monkey tail window handle was easy for artists to produce by hand from cast iron and became widespread. Even today, you can find original cast iron monkey tail window handles on traditional timber casement windows.
Unfortunately, these old timber casement windows are often draughty, insecure, and thermally inefficient, leading to many homeowners seeking a replacement. Usually, when replacing the original single-glazed windows, the window handles are lost with them. Luckily, there's now a modern monkey tail handle solution that allows homeowners to preserve the classic appearance of their windows and handles whilst also enjoying the benefits of the latest uPVC window alternatives.
Preserving rural beauty in Littlewick Green
Featured in Midsomer Murders, Littlewick Green is a picturesque village in a semi-rural area. Our clients owned a detached property built in the late 1800s and were eager to invest in new windows that would offer them improved noise reduction and thermal insulation without detracting from the character of their home.
They eventually selected Evolution Storm 2 timber alternative uPVC windows with a woodgrain finish to create real wood's authentic feel and look. Combining the latest technology with innovative design, these windows boast impressive period detailing. Blending perfectly with the home's Art Deco features, the white wood effect design complements its Tudor-style exteriors. At the same time, its ovolo edges closely resemble the traditional and timeless aesthetic of timber yet with all the low-maintenance and energy efficiency benefits of the latest materials.
We completed the authentic effect for our clients by using traditional black monkey tail window handles – the ideal finishing touch.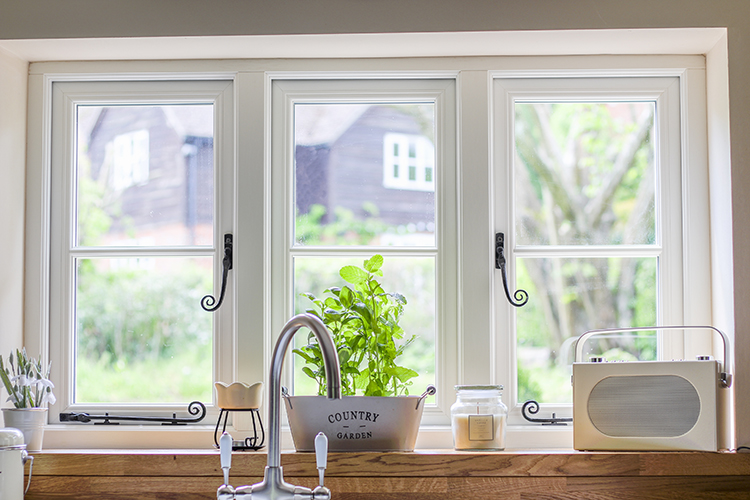 Maintaining a traditional aesthetic in Thame
When their original timber windows began letting in water, our clients in Thame approached us seeking replacements. As they were eager to retain their home's traditional aesthetic, they were reluctant to consider uPVC; however, we were able to change their minds by introducing them to Evolution's timber alternative range, which looks just like real wood, even featuring mechanical rather than welded joints to replicate period style.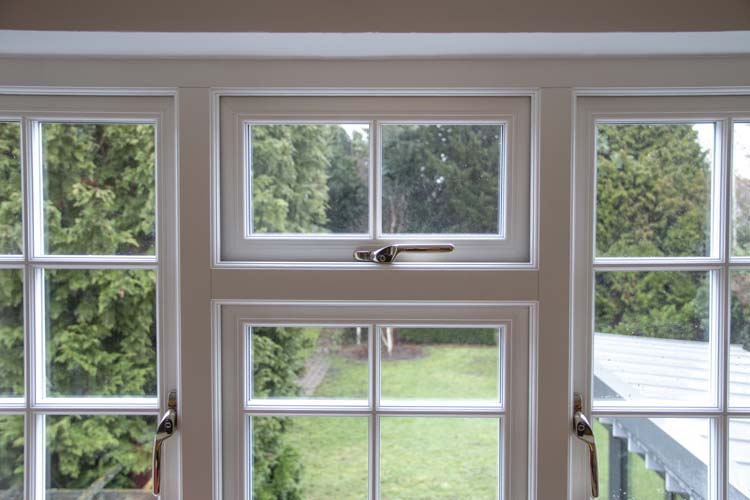 After considering their options, the owners selected white Storm windows with Georgian bars to complement their property's style and age. They also opted for iron monkey tail window handles with an elegant gold finish to complete the look.
Improved energy efficiency in Wokingham
The owners of this semi-detached family property in Wokingham were keen to boost their home's energy efficiency by replacing their 25-year-old double-glazed uPVC windows. After viewing our comprehensive window range, they opted for Halo's System 10 Royale range with a smooth white interior and exterior finish and welded joint aesthetic.
The versatile and practical Halo window systems are very popular with our clients thanks to the array of options we can offer, paired with their impressive security and outstanding thermal efficiency. By choosing white iron monkey tail window handles, they put the final touches to the interior of their property, complementing their existing décor and achieving a beautiful effect.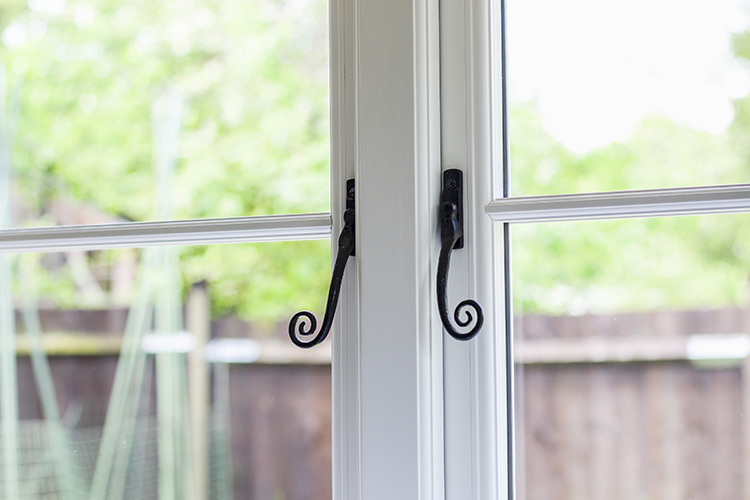 The smallest details make the difference.
When replacing your home's windows, it is essential never to overlook the importance of the small details like the handles. The option you choose can make an enormous difference to the overall effect. When you choose iron monkey tail window handles, you'll have a great choice of colours to pick from and can be confident that they will work perfectly in both period and modern settings.
To discuss replacing your windows, contact the TVW team today or request a free quotation online.