Often referred to as concertina doors, sliding doors and even zig-zag doors, doors that fold back along a track to create a room that is fully opened on at least one side are now very well known, even if their name isn't.
The term 'bi-fold door' relates to the fact that there will be a minimum of two panels that slide along a track. Each section joins the next on a set of hinges, allowing them to fold back in a concertina style. When there are an odd number of panels, the end panel can operate like a door, where it opens independently of the other sections, perfect if you need to quickly pop outside or let the dog in.
It's possible to have up to eight panels, assuming the system you have chosen is of very high quality and is robust.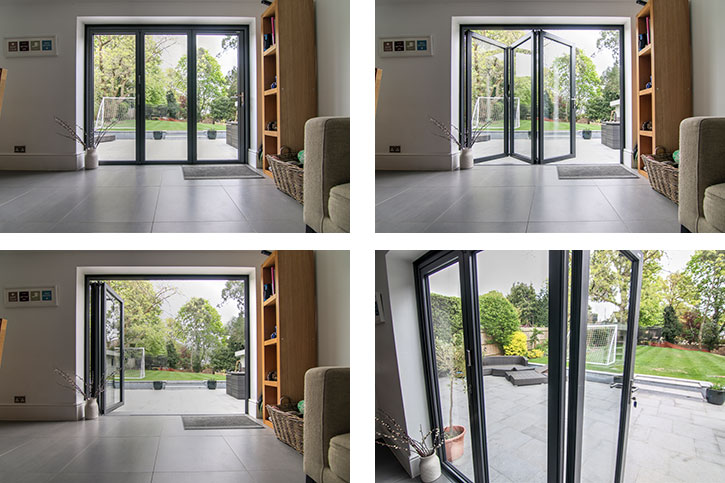 If the opening is particularly wide, we would recommend installing two or more sets of bi-folds with a solid section in-between, or sliding doors which can often span wider spaces.

The track can sit flush with the floor level making access easy and giving the feeling of the inside and outside being one space. Rebated tracks are also available.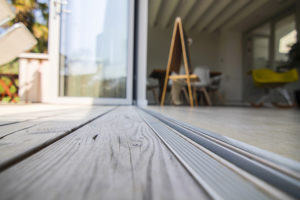 Bi-Fold Doors are available in aluminium, timber, uPVC or a combination of timber/aluminium. They can be finished in any RAL colour, in matt or pre-anodisation. Grey is a popular colour and there are many shades of it, from a dark anthracite grey to a more greeny Pebble grey. White is also popular. Grey gives the bi-folds a contemporary look which can suit modern homes as well as more traditional properties. The contrast between old and new can look stunning.

Cornerless solutions and slim-line options are available, making the bi-fold door highly versatile.
If you have any questions about bi-fold doors, please get in touch.
Thames Valley Windows has bi-fold doors on display in our Bracknell showroom.
You may also find the following blogs useful; 'Timber Bi-Folds', 'A Beginner's Guide to Bi-Fold Doors' and 'What Makes Solarlux Bi-Folds Different?'
See our recent Bi-Fold Doors projects