Internorm has long been regarded as the market-leading supplier of high-quality European windows and doors and has been established in Austria for over 90 years with three extensive production sites. They offer a range of materials from innovative uPVC and traditional timber with superior aluminium cladding in numerous design options to fit individual projects.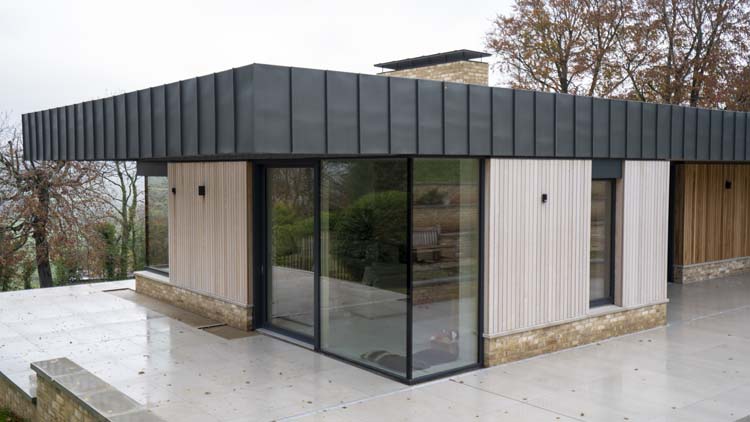 The combination of long-term durability, superior craftmanship, thermal performance and reliability make Internorm our premium innovative glazing systems that we offer for modern architectural projects. Every product has the following premium qualities and features:
· Superior Austrian Craftmanship, Exquisite material quality – timber pre-treated and free of knots.
· Minimalist-style windows with concealed hardware giving the most elegant lines inside and out!
· Three gaskets all around prevent wind, water and sound from entering, keeping you warm and secure.
· Energy Efficiency as low as 0.6 W/m2K – Super Passiv Haus standard – over 100% better than a standard window or door!
· Sound reduction of up to 47dB – less than 5% of original noise source – 100% better than standard!
· 10-year warranty on all aspects of the windows and doors, including colour fastness.
· 30-year assurance – Internorm will continue servicing their products for 30 years after production.
Premium European windows and doors will be one of the defining features of your project, so be comfortable knowing that you are purchasing the best glazing products on the market.
We are incredibly proud of our long association with Internorm. Our solid relationship spans over two decades, and we have always shared the same principles and ethos that world-class products deserve a similar unrivalled approach to customer service and installation.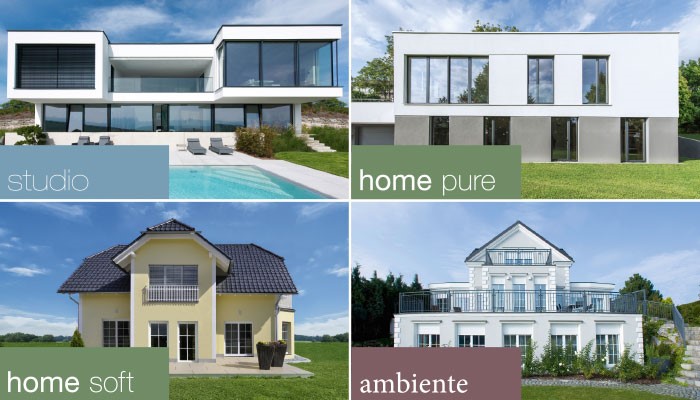 There are no limits to your architectural glazing requirements with Internorm glazing systems.
They have the solution, whether it's uninterrupted glazing, oversized panels, or glass corners.
They offer four different design styles:
STUDIO: The perfect window system for the individualist. Precise flush shapes hidden in the brickwork enable more glass appearance and enhance its minimalist appearance.
HOME PURE: Precise straight lines and modern square shape windows have been designed for the perfectionist
HOME SOFT: Quintessential system for the sophisticated. The soft lines and harmonic shapes offer cosiness and homely living spaces.
AMBIENTE: Ideal window system for the traditionalist. A combination of elegant and traditional shapes characterises the architecture of luxurious detached properties and estates. Internorm
European windows are named using the letters KF – HF
K stands for Kunststoff, which is the German word for plastic.
H is for Holz, the German word for wood.
F is for Fenster, the German word for window.
Where there are integrated blinds, the F is replaced with a V for Venetian, which is Venezianisch in German.
Internorm offers the best innovative technologies and techniques for outstanding sustainability and performance.
All window styles, from tilt and turn windows to double-hung windows, are available in uPVC/aluminium and timber/aluminium with double or triple glazing. All offer I-tec Glazing, I-tec
Insulation, and I-tec Ventilation, a range of revolutionary, industry-leading innovations within windows and doors.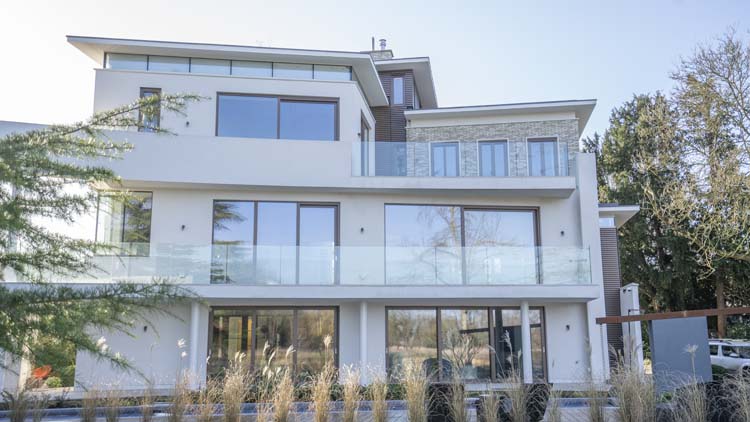 Internorm uPVC /aluminium windows and doors feature cutting-edge technology combined with outstanding insulation performance to produce some of the best fenestration products on the market.
UPVC is one of the most extensively used materials in new windows and doors, as it boasts outstanding insulation performance and functionality.
Together, uPVC/ aluminium-clad windows provide premium, modern aesthetics, exceptional energy efficiency, and minimal maintenance.
Designed to meet Passivhaus requirements and their engineering superiority, they can go much larger than most other products.
Especially suited to high-end contemporary projects, the KF option is more cost-effective than its timber [HF] counterpart. It can be used to keep expenditures down on a project or in high moisture areas (e.g., bathrooms or kitchens) where the timber may be unsuitable. They can also be combined with the HF product, as both look exactly the same from the outside.
Internorm's KF 410 uPVC/aluminium composite window consists of a reinforced uPVC profile, highly thermally efficient insulating foam and weatherproof aluminium cladding.
Thermal Insulation: as low as 0.62 W/m²K
Sound Reduction: up to 45 dB
Security: RC1N, RC2
Locking: concealed
Construction Depth: 90mm
Design Styles: Studio, Home Pure, Home Soft, Ambiente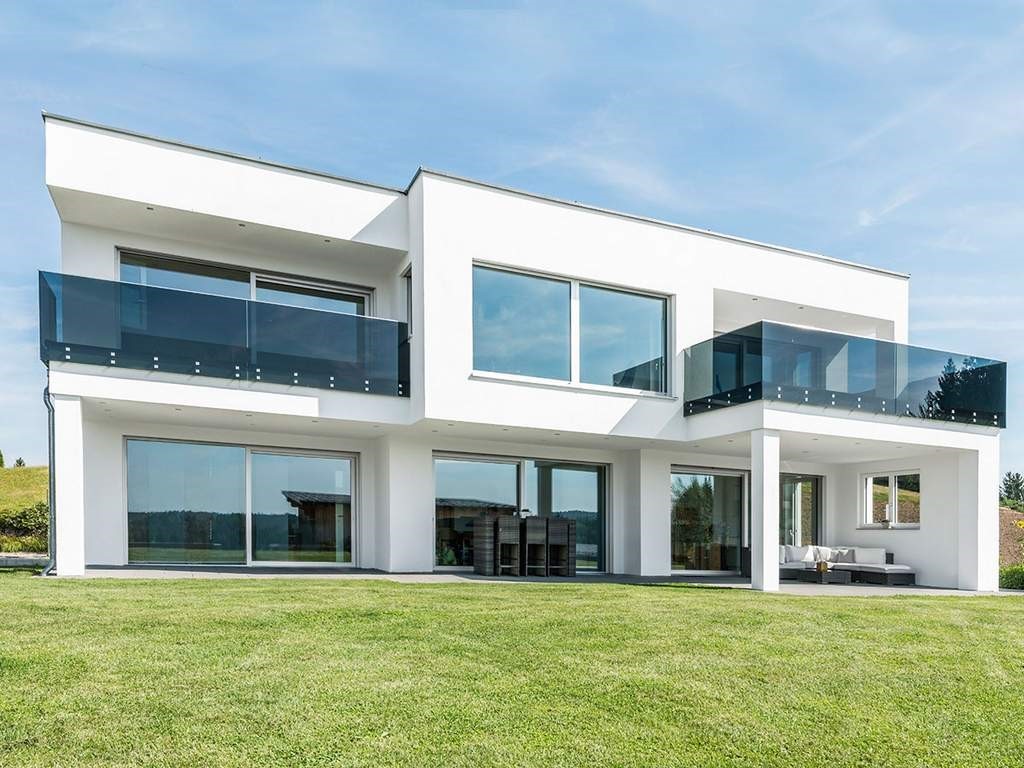 Aluminium-clad timber windows are an unrivalled, premium system. They are environmentally friendly and energy-saving, and unmatched in elegance and style.
The combination of superior craftsmanship, long-term durability and exceptional thermal performance make aluminium-clad windows ideal for contemporary builds and passive houses.
However, these products can be used in any home that demands the best.
Timber is the most sustainable material. The latest advancements in wooden window frames mean the low thermal conductivity of timber reduces C02 emissions and offers natural Insulation to keep heat within the property and lower energy bills within the home.
The laminated timber core and solid aluminium exterior provide strength, combining the balance of natural beauty and durability. These units will add the 'WOW Factor to any project and are available in a range of wood finishes, including Spruce, Larch, Oak and Walnut!
The Internorm HF 410 timber/aluminium system is the new generation in these tripled-glazed composite window ranges and manufacturing technology advancements.
Thermal Insulation: as low as 0.64 W/m²K
Sound Reduction: up to 45 dB
Security: RC1N, RC2
Locking: concealed
Construction Depth: 90mm
Design Styles: Studio, Home Pure, Home Soft, Ambiente
Internorm lift and slide doors are luxurious systems that offer excellent airtightness and thermal performance. Passive House certification means that these sliding doors are over 100% more thermally efficient than a standard sliding patio door in the UK Market. This makes them an excellent choice for new builds and home renovations.
The smooth 'soft/lift' system offers an easy lifting and sliding operation of the large-scale glazed panels and can even be specified with a 'soft-close' to give that extra level of comfort and luxury.
Available with external shutters for solar control to help keep you cooler in the hot summer months and privacy if you want to keep out the world. They are electronically controlled and can be integrated into any smart home system.
The European style sliding doors can also have motorised control meaning that you can open and close the doors with just the flick of a switch, or again assimilated into your proprietary smart home system.
The modern narrow square-edged frames can be rendered entirely on three sides to ensure the window offers maximum glass for a stunning frameless aesthetic.
The high-performance system also features a patented guiding rail concealed within the frame, with an integrated stopper buffer to ensure flawless appearance, smooth operation and optimum burglary protection.
Specifying Internorm Sliding Doors on your project will enable you to use large glazed areas which can still be operated with ease and can be a beautiful focal point for any room in which they are utilised.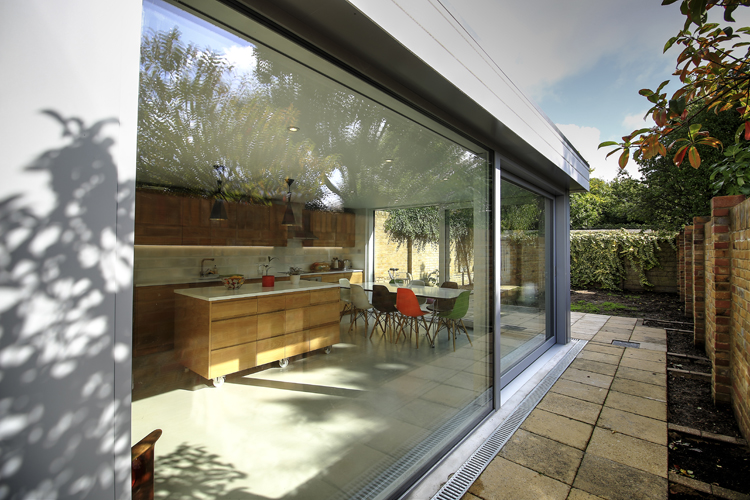 KS430 uPVC/aluminium system is a modern composite door system designed with cutting-edge technology to the highest standard to offer excellent comfort and lower energy bill
Thermal Insulation: as low as 0.64 W/m²K
Sound Reduction: up to 43 dB
Security: RC1N, RC2
Locking: concealed
Construction Depth: 85mm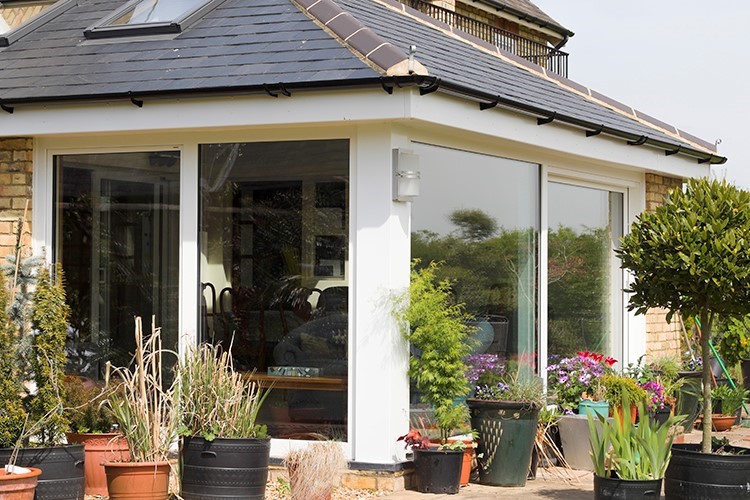 HS330 lift and slide door system offers a unique design and exceptional comfort combined with high-quality technology. They are suitable for wide-span openings up to a maximum of 15m2.
The Internorm HV & KV series feature the same units as the HF / KF range but with the addition of a completely integrated I-Tec shading system.
There are different blind styles available, including Venetian and Duette, alongside multiple colour choices for each option.
Integrated blinds are built into the unit itself. They are protected from dust/animals / small children.
Integrated blinds for sun and privacy protection and day/night recognition allow for automatic opening and closing of the blinds at sunrise and sunset. They can be either independently solar-powered or wired into the house electrics – your smart home system can fully control them.
These European windows and doors are for the homeowner who wants the very best in technology and convenience.
Enjoy quadruple protection from the sun and privacy and increased thermal Insulation and noise reduction with the energy-efficient HV 450 timber/aluminium composite window range.
Heat insulation glass as standard
Sound Reduction: up to 46 dB
Thermal Insulation: as low as 0.62 W/m²K
Due to the bespoke nature of Internorm European windows and doors, we strongly recommend seeing them at our Bracknell showroom to see their beauty and quality before deciding on new windows for your home.