Modern Barn Conversions – An Introduction
Modern barn conversions are becoming increasingly popular as the advantages these traditional-style properties offer become more apparent. While some people choose to live in their original building, others turn farm buildings into holiday homes or a venue for weddings or other events.
Thanks to the beautiful original period features of agricultural buildings, from high vaulted ceilings and stone walls, and the opportunities they offer to add large windows and doors to bring in plenty of natural light, modern barn conversions are wonderful projects to work on. We are delighted and proud to have been able to work on some fantastic barn conversion projects for customers in Hampshire and Oxfordshire in recent years.
If you want modern barn conversion ideas, be inspired by these four impressive family home projects where we designed and installed architectural glazing solutions.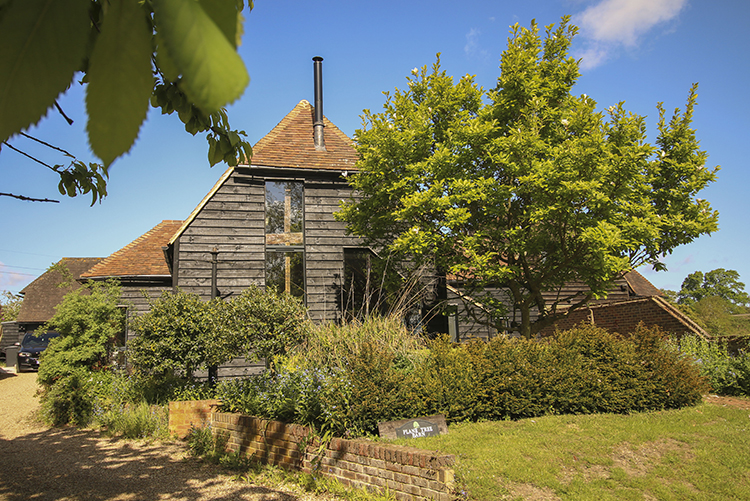 Heritage Aluminium Windows in Winchfield, Hampshire
Nestled in the beautiful tranquil village of Winchfield, Hampshire is this charming barn conversion with picturesque surroundings. The homeowners in Hampshire were working on a converted barn project to turn a grade ii listed 16th-century barn that had seen a previous incarnation as a 1980s pub into a stunning new home. Finding the right glazing solution for this property proved challenging since finding the right mix of traditional and contemporary was challenging.
These ultra-slim, black, stylish heritage aluminium windows proved the ideal solution. The living spaces are bathed in natural light, creating a spacious feeling and warm and comfortable ambience inside the property, perfect for relaxing and entertaining while lending a desirable industrial look. Heritage aluminium doors and windows are carefully designed to replicate the detail and proportions of original steel frames, and, as a result, the outcome contrasted beautifully with the building's traditional aesthetics both outside and in.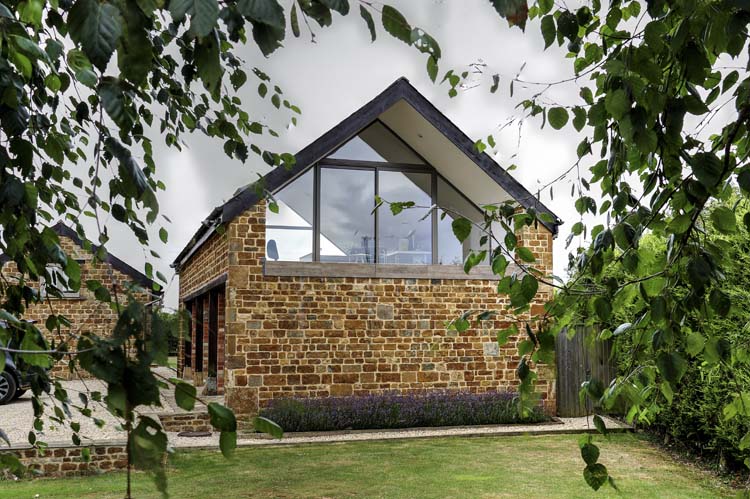 Gable End Windows and Sliding Glass Doors in Hook Norton, Oxfordshire
An idyllic and stunning barn conversion in the charming village of Hook Norton, perfect for touring the Cotswolds. Our customers in Hook Norton, Oxfordshire, were keen to transform a barn into a luxury holiday home with open-plan living spaces. To suit the modern 21st-century lifestyle with the addition of underfloor heating while still staying true to the building's heritage.
They wanted to find a way to flood the interior space with natural daylight while enabling guests to enjoy the fantastic panoramic views across the Cotswolds. We installed these slimline sliding glass doors and floor-to-ceiling gable end windows, creating an awe-inspiring architectural glazing feature to enhance their upper-floor games room.
These gable end windows combine contemporary features with classic heritage features like arched stone doorways and stone mullion windows. Thanks to the beige-grey finish, they worked perfectly with the honey colour brickwork, seamlessly tying the new and old together.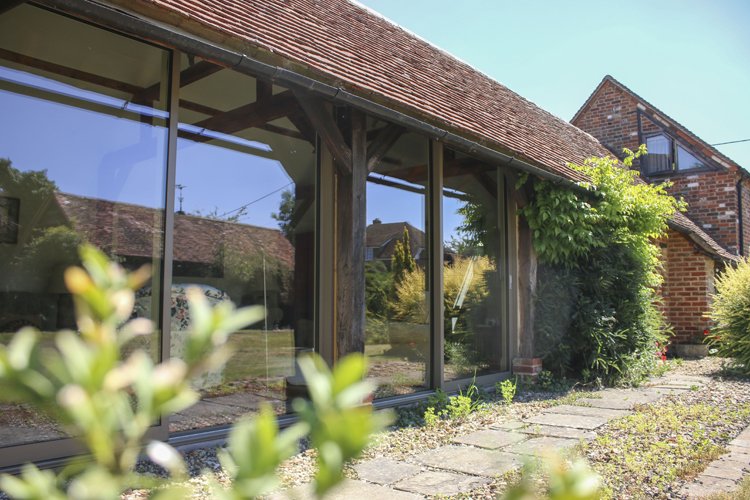 aïr LS500 Glass Sliding Doors, Abingdon, Oxfordshire
Situated in the heart of the historic Abingdon town centre in rural Oxfordshire. Our customers in Abingdon were enhancing their barn conversion living room and found the ideal solution: aïr LS500 Glass Sliding Doors. At the time of the original barn conversion, they used a set of old glass doors that they had taken from another area of their home. However, as the years passed, they found they were experiencing climate problems, particularly from harsh weather.
These aïr glass sliding doors offer outstanding insulation performance, security, flexibility and quality, proving the perfect choice for this stylish barn conversion. With beige grey frames, these aluminium doors perfectly fit the property's surrounding landscape and style while creating a feeling of light and space indoors, thanks to the narrow sightlines.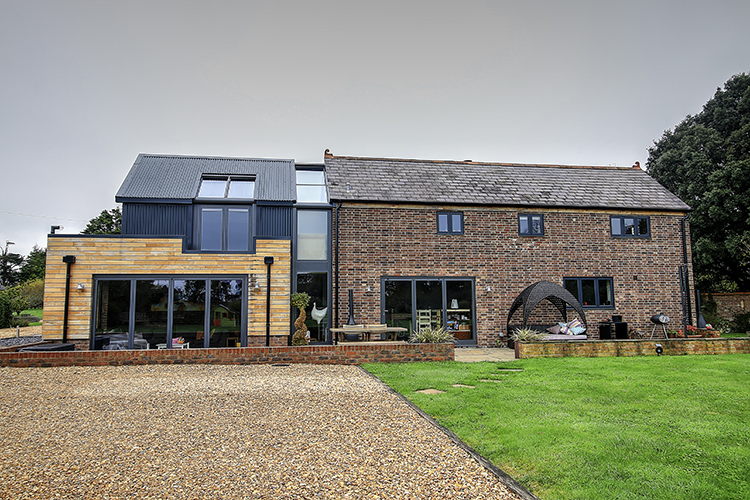 Solarlux Glazed Link, Nutbourne, West Sussex
Merging new and old is always challenging, but this stunning barn conversion project delivered awe-inspiring results with a Solarlux Glazed link.
Nestled in one of the few remaining British apple orchards on the Chichester coastline of Nutbourne, West Sussex. The homeowners were looking for the ideal way of blending their barn conversion with their new extension. An innovative glass walkway proved to be the answer to their problem, adding to the feel of light and space without compromising heat loss. The Anthracite Grey finished outside and contrasted perfectly with the dual colour timber cladding and brickwork, creating a magnificent and eye-catching centrepiece to the four-bedroom home.
Thames Valley Windows has worked with architects, contractors and homeowners to design and install the best architectural glazing solutions for barn conversion projects.
Contact our designers today to discuss the best glazing solutions for starting a barn conversion project.